Obit: William "Bill" D. Palmer, 88, of West Bend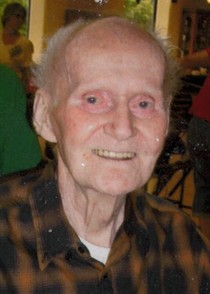 May 3, 2017 – West Bend, WI – William "Bill" D. Palmer of West Bend passed away peacefully on Friday, April 28, 2017 at Cedar Lake Nursing Home, at the age of 88.   He was born on April 25, 1929 in the South Bronx, New York to John and Margaret Palmer.  In addition to his parents, Bill was preceded in death by his sister Katherine (Palmer) Mirando and brother John "Jack" Palmer.
Bill served in the U.S. Navy on the U.S.S. Johnson from 1947 to 1950.  Following his discharge he moved to Mishawaka, Indiana where he met his wife, Phyllis (nee Parulski) Palmer of 65 years.  In 1958 they moved to West Bend where he worked at the Gehl Company.  He eventually became a self-employed painter and maintenance man.  Bill's interests were fishing and doing whatever he could do to help others.  If you knew Bill, you know that he had a great heart and a crazy sense of humor, including his infamous "walleye handshake"!
Survivors include his children Carol (Jim) Gessert of Champlin, MN, Debra (Bob) Gatzke and Mark (Carrie) Palmer.  He is further survived by his grandchildren Kathryn Gessert, Andrew (Whitney) Gessert, Jamie (Jill) Geidel, Megan (Dan) Lederer, Rob (Chrissy) Gatzke, Drew Palmer and his great-grandchildren Shawn, Brennan and Owen Gatzke, Allison and Ben Lederer.
A Mass of Christian Burial will be at 3:30PM on Tuesday, May 16, 2017 at St. Frances Cabrini (1025 S. 7th Ave. West Bend, 53095) with the Most Reverend Jeffrey Haines presiding.  Visitation will be at church from 2:00PM until time of Mass.  (3:15PM). Inurnment will be at Holy Angels Cemetery.   In lieu of flowers, memorials are appreciated to the Cedar Community Foundation (113 Cedar Ridge Dr. West Bend, WI 53095) and/or St. Frances Cabrini remodeling project.
The family wishes to give a sincere THANK YOU to the staff of Cedar Communities, especially the Forestview wing.  Their amazing care of Bill is so much appreciated.  Knowing he was in such good hands made this journey manageable.  We are forever grateful.