March 10, 2020 – West Bend, WI – Bernadine "Bonnie" Theusch (Hug), 101, of West Bend was called home to be with the Lord on March 10, 2020 at New Perspective Senior Living Community in West Bend.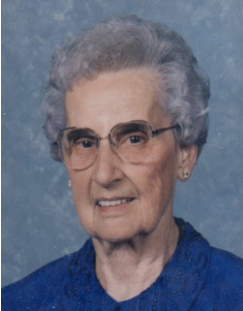 Bonnie was born on May 7, 1918 in the Town of Addison to John and Magdalena (Hefter) Hug. She married Lawrence Theusch on Oct. 10, 1939 at SS. Peter and Paul Church in Nenno, WI. Lawrence passed away on May 6, 1980.
Survived by one son, Alan, (Susan) of Ocala, FL, two daughters, Phyllis (Jim) Schwartz of West Bend, and Jane (Mike) Strobel of Kewaskum, and daughter-in-law MaryAnne Theusch of West Bend.
Ten grandchildren, Tracy (Dan) McCarty, Brenda (Tony) Fleischman, Bruce (Erin) Theusch, Kim (MariBeth) Theusch, Kelli (Brian) DeRuyter, Korey Theusch, Tricia Schwartz, Tina (Savva) Mueller, Jennifer (Joe) Mechenich, and Jason (Karen) Strobel.
Seventeen great-grandchildren, Jacob, Mitchell, and Megan McCarty, Nicholas, and Noah Fleischman, Leah, Anna and Alex Theusch, Emily and Tyler DeRuyter, Ben and Nadia Mueller, Joey, Macy, and Grady Mechenich, Declan and Dawson Strobel.
Two sisters, Grace Lamers and Darlene Beistle and two brothers, Ronald (Gladys) Hug and Lawrence (Joyce) Hug
Preceded in death by her husband Lawrence; three sons, Kenny (Karen), Donnie (Mary) and Terry Theusch; two grandsons, Jeffrey and Timothy Theusch; eight brothers, Leonard (Madeline), Eugene (Lorraine), Werner (Marie), John (Virginia), Robert (Bernice), James, Francis and Dennis Hug; and six sisters, Melonia (Evertt) Becker, Hattie (Fred) Guertner, Lorretta (Werner) Strupp, Lucille (Fred) Zimmel, Betty (Harvey) Hoerig and Ann Mueller.
Bonnie was an avid Brewer and Packer fan. There are many good family memories of attending Brewer games as "Bonnie's Bunch." She liked to knit and crochet. Every new family bride and newborn was gifted with an afghan. She was very strong in her faith and was a member of St. Michael Christian Mothers and Choir. Her primary focus in life was her family. She was also famous for her poppy seed torte at family gatherings.
A Mass of Christian Burial will be held at St. Michael Church, 8883 Forest View Rd – St. Michaels, on March 21, 2020 at 12.
Visitation will be from 10 a.m. until time of Mass. Rev. Jacob Strand will be presiding. Burial to follow in Church cemetery.
In lieu of flowers memorials to the KEYS scholarship fund in Kewaskum are appreciated.
A special thanks to the caregivers at New Perspective and Season's Hospice, the living proof of Angels on Earth, and Dr. Michael Mosley.
Myrhum-Patten Funeral & Cremation Service has been entrusted with Bonnie's arrangements.