Bernard "Bernie" J. Kiefer, 70, passed away on Friday, March 20, 2020 at the Aurora BayCare Medical Center in Green Bay. He was born on May 23, 1949 in Sheboygan, WI to Rudolf and Lieselotte (nee Wustmann) Kiefer. He married Helen M. (nee Lemke) on May 25th 1974.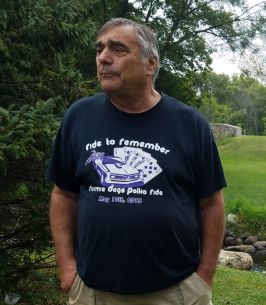 Bernie graduated from Cedarburg High School in 1967. He was a member of the EAA when it was in Hales Corners and remained a member until it moved to Oshkosh in 1969. Bernie attended UW Milwaukee and graduated in 1971- attaining a B.A. in History and minor in Business. He was a proud member of the Phi Beta Kappa Honor Society.
Upon graduation, with no teaching jobs available in his field he worked as a salesman at a car dealership. Utilizing his minor in business he moved on to the Schultz Brothers Dime store chain as a store manager. Within a 5-state radius, he opened new stores for the chain and was based out of the West Bend store. Bernie met the love of his life, Helen, at a little eatery/ ice cream shop across the street called Parkette. They were married on May 25, 1974 at Saint Mary's Immaculate Conception Parish in Barton, Wisconsin. Not wanting to be transferred every couple of years he applied at the West Bend Company who was looking for a temporary store manager. Thus began a 30-year career as manager of the WB Company outlet store where many life long friendships were made.
He was very active in the scouting program, serving 8 years as the Cub Scout Master of Pack 3789. He did an additional 6 years as a Unit commission for the Boy Scouts Bay Lakes Council of Wash. Co. He was proud to have earned " The Order of the Arrow" the National Honor Society of the BSA.
Bernie and Helen were very involved with the Wash. Co. Hist. Society with the intent of preserving artifacts from the WB Co. archives and company store museum.
Bernie loved working on cars. He was a mentor to many young men and enjoyed working with them. Any year, make, or model was ok with him but Chevys were his vehicle of choice. He, Helen and son Rick restored a 1970 Chevelle which was his pride and joy, his "BABY". The grandkids looked forward to grandpa picking them up from school in the "Green Machine". His daughter, Kris loved to drive the Chevelle and cart him around after his eye surgery. He was a member of the Kettle Moraine Klassic Kar Klub (4-KKKK) for many years and was instrumental in setting up the annual car show for them at the WB Moose Lodge.
Bernie became a member of the West Bend Moose Lodge 1398 in 1993. He held the position of governor of the WB Lodge for several terms. He was treasurer for District 3 as well as for the Moose Legion. He attained the rank of Fellow and exemplified the true meaning of what a moose should be. Every Dec., Bernie and Helen organize a bus trip to the tree lighting at Mooseheart in IL. Their family enjoys starting the Christmas season with the kids at Mooseheart. As a long time moose member many beautiful friendships have been formed. Their strength and love for Bernie and his family have helped them thru some difficult times.
As a history major he loved to read anything about World War II, Firearms and had a special place in his heart for John Wayne movies and memorabilia.
Weekends were spent at the lake home up north, AKA "Weekend at Bernie's." Many a child got quite an education around his infamous campfires. His favorite spot at their Florida home was sitting in the swing on the deck overlooking the pond. He loved his birds and watching for "Herman" the gator. He loved to sled in the winter, fishing in the summer, and was a mentor to not only his children and grandchildren but to many others that affectionately called him "Dad, Grandpa and Uncle".

A huge hug and thank you to family, friends and our extended Moose family for the kind words, thoughts and prayers that have gotten the family thru some very difficult weeks.
The world has lost a truly wonderful, loving husband, dad, grandpa and the best friend you could ever ask for. Rest in peace Bernie with the Lord knowing what a legacy you have left behind.
Bernie is survived by his loving wife of 45 years, Helen M.(nee Lemke); Son Richard, "Rick", Wife Kim; Daughter Kristine "Kris", Husband Tom Costa; grandchildren; Kenneth & Annmarie Costa; Zachary, Hailey & Bridget Kiefer. He is further survived by Brother-in-Laws, Jerry (Terri) Lemke, Tom (Cheryl) Lemke; Sister-in-Laws, Kathy (Dale) Raether, Ruth (Keith) Luft, Judy (Bruce) Survis & Karen Fay and many nieces & nephews. He is further survived by other relatives and friends.
Bernie is preceded in death by his parents, Rudolf & Lieselotte & his father & mother-in-law Kenneth & Adeline Lemke.
Due to CDC restrictions, A Private Family Graveside service at Washington County Memorial Park along with all the normal amenities was not possible at this time. A Celebration of Life will be held at a later date.
Memorials are appreciated to Mooseheart (or) Moosehaven.
The family extends heart felt thanks and gratitude to the medical staff at Aurora Baycare Medical Center in Green Bay. A special thank you to.. Dr. Darkhabani, Dr. Jared Hocking and nurses Leah, April, Katie & Hope for their extreme compassion and wonderful care of Bernie during a very difficult time. A thank you to the hotel staff at the Radisson Hotel and Conference Center in Green Bay for all their help and concern.