Obituary | Bernice M. Yogerst, nee Freitag, 95, of West Bend
July 1, 2019 – West Bend, WI –Bernice M. Yogerst, nee Freitag, of West Bend died on Saturday, June 29, 2019 at Froedtert Hospital in Wauwatosa at the age of 95. She was born on September 13, 1923 in West Bend to the late Math and Amelia (nee Goschey) Freitag.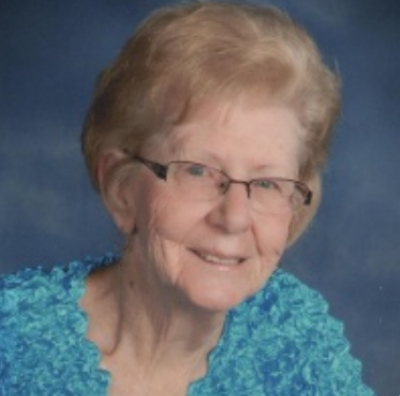 On May 28, 1949, she was united in marriage to Nickolas F. Yogerst at Holy Angels Catholic Church. Nickolas predeceased December 23, 2004.
Bernice's Catholic faith was very important to her. As a founding member of St. Frances Cabrini Parish, she volunteered in many areas.  She was a Eucharistic Minister, sang with two choirs, was a member of the Christian Women's Confraternity, and helped to serve at many funeral meals.
Prior to her marriage she worked at Enger Kress. When her children were older, she began working part-time at the former Moraine Supper Club and also at the former Ol' Tyme Cleaners.
She enjoyed many different hobbies and past-times. She could often be found outdoors tending to her large vegetable and flower gardens or doing yard work. She also was a skilled at knitting and crocheting. Another favorite craft was to make tote bags, purses and other usable items from recycling plastic store bags. Dancing and playing sheepshead with the XYZ Club in Kewaskum were also among her favorite activities.
Bernice was a member of the Wee-Bee Red Hatters, Ever-Ready Homemakers Club, and was a delegate for Catholic Family Life.
Survivors include 5 children: Lucy of Minneapolis, MN, Daniel of New Fane, Beverly of West Bend, Michael (Cathy) of Longmont, CO and Janet Verfuerth of West Bend; 6 grandchildren: Daniel and Derek, Corrynn (Warren) Mahnke, Denise (Josh) Moore and Erin, and Jeremiah Verfuerth (fiancé Dana Ryall); 7 great-grandchildren: Duncan, Graeme, Maeve and Lilou Yogerst, Emily Yogerst and Caitlyn and Emma Mahnke; 1 sister Delores Palash of West Bend; 1 sister-in-law Helen Yogerst of Milwaukee; nieces, nephews, other relatives and friends.
In addition to her parents and husband, she was preceded in death by 1 sister Lucille and 1 brother Robert Frietag.
A Mass of Christian Burial will be held on Friday, July 5 at 3:30 p.m. at St. Frances Cabrini Catholic Church. Burial will be in Holy Angels Cemetery. The family will greet relatives and friends during a period of visitation at church on Friday from 1:30 until 3:15 p.m.
In lieu of flowers, Masses or memorials to the charity of the donor's choice appreciated.
The Schmidt Funeral Home of West Bend is serving the family.