July 1, 2019 – West Bend, WI –Roman H. Gundrum, 103, of West Bend passed away peacefully on Saturday, June 29, 2019 at Community Memorial Hospital in Menomonee Falls. He was born April 24, 1916 in the Town of Addison to the late Louis F. and Magdalena (nee Pfeifer) Gundrum.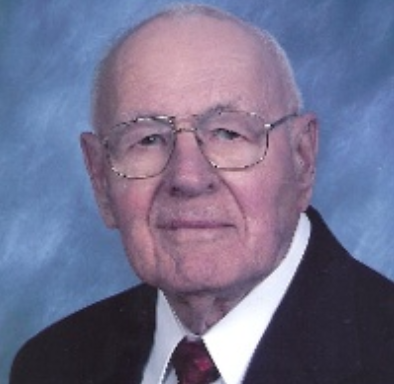 He was married to Virginia R. Bachmann for 58 years. They lived in West Bend until 1978 before moving to Palm Harbor, FL. In 1991 they returned to West Bend before moving to Brookfield in 2008 then Menomonee Falls.
Roman retired as the superintendent of tool and die operations in 1978 after 43 years at the West Bend Company. He was also exceptionally skilled at wood working and used his many skills to help others. He enjoyed the Brewers, travelling and especially fishing with many trips to Canada.
He was a Fourth Degree member of the Knights of Columbus and a member of various Catholic parishes.
Roman is survived by his son Robert (Iva) Gundrum of Menomonee Falls, 2 grandchildren: Annette Herbert of Sussex and Ronald (Kathleen) Gundrum of Waunakee, great-grandchildren: Breanna and Zachary Herbert and Alissa and Rachel Gundrum plus other relatives and friends.
He is preceded in death by his wife, Virginia, his sister Irene (Clarence) Jones and a niece Helen Lackas.
A Mass of Christian Burial will be held Friday, July 5, 2019 at 11:00 a.m. at Holy Angels Catholic Church, 138 N. 8th Ave., West Bend, WI 53095 with Rev. Jerome Repenshek presiding. Burial will follow in Holy Angels Cemetery. The family will greet visitors Friday, at the church from 9:30 a.m. until 10:45 a.m. In lieu of flowers, memorials are appreciated.
The Schmidt Funeral Home in West Bend is serving the family.