Funeral tomorrow for Bruce M. Koehler, 53, of Waubeka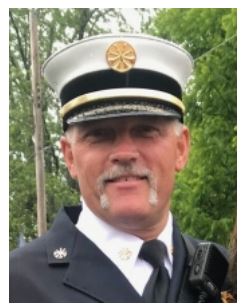 Nov. 9, 2018 – Waubeka, WI – Bruce Koehler, of Waubeka, passed away unexpectedly following a motorcycle accident. He was 53 years old.
Bruce was born in Port Washington on June 22, 1965, son of Frederick "Fritz" Koehler Jr. and Betty Reimer Koehler. From an early age Bruce's family always came first. He grew up in Little Kohler, helping the family in their businesses, Lehn's Catering and Lehn's Tavern. He took pride in starting his mother's school bus for her every morning and caring for the Koehler Family Pond. He attended school in Random Lake, graduating with the class of 1983.

Bruce worked as a Head Maintenance Engineer for the Clothes Clinic in West Bend.
His calling in life was helping people. He was a longtime member of the Waubeka Fire Department where he currently held the rank of Assistant Chief, a team leader for the HazMat Team and a Rescue Boat Crew member for Ozaukee County Emergency Management, President of MABAS Division 119, a member of the Southeast Wisconsin Incident Management Team, an advisor for the Random Lake Area District Explorers Program, a member of the Ozaukee County and the Wisconsin State Fire Chief's Associations, and the Badger Firefighters Association.
Bruce also enjoyed riding his Harley with his fiancée Dawn, snowmobiling, hunting and fishing. His most treasured time was spent with his four grandsons.

Bruce is survived by his two children Jessica Simms and Austin (Angel) Koehler both of Waubeka, his four grandsons: Nathan, Aiden, Asher and Cooper, his fiancée Dawn Dieringer (nee Reisimer) and her children Cora and Kelsie of Waubeka. He is further survived by his siblings: Gerald (Barb) Koehler and Fritz (Sue) Koehler III both of Crivitz, Dale (Kate) Koehler of Amery, and Charlene (Timothy) Landing of Fredonia, many nieces, nephews, other relatives and many, many, friends.
He is preceded in death by his parents Fritz and Betty, and two nieces Victoria "Tori" Landing and Kristen Koehler.

Funeral services will be celebrated on Saturday, Nov. 10, 2 PM at St. John's Lutheran Church, 824 Fredonia Ave., Fredonia. Pastor Marshal Frisque will preside over the services. Visitation will take place at the CHURCH on Saturday the 10 from 10 AM until 1:30 PM.
Fire department walk-through will take place at 1:30 PM. 

In lieu of flowers, memorials are suggested to the family, the Waubeka Fire Department or the Wisconsin State Firefighters Memorial.
The Eernisse Funeral Home, Port Washington is honored to serve the family. Online condolences may be left at www.eernissefuneralhome.com
VISITATION
 10:00 AM – 1:30 PM
St. John Lutheran Church Fredonia
824 Fredonia Ave.
Fredonia, WI 53021Fire Department walk through at 1:30 PM
SERVICE
St. John Lutheran Church Fredonia
824 Fredonia Ave.
Fredonia, WI 53021