July 28, 2020 – Lomira, WI – Caroline Bertha Wieselmann (nee Bornfleth), 89, of Lomira, formerly of Muskego, passed away peacefully July 25, 2020 at Hope Senior Living in Lomira.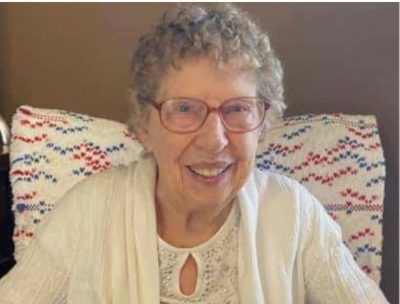 Caroline was born March 27, 1931 in the Town of Vernon, Wisconsin, the daughter of the late Arthur R. and Edna C. (nee Barton) Bornfleth. Caroline was confirmed in the Christian faith May 20, 1945 at St. Paul's Evangelical Lutheran Church in Tess Corners. Caroline married Donald Earl Wieselmann on March 8, 1952 at Christ Evangelical Lutheran Church in Big Bend. They were blessed with three children, Donna, Dennis, and Diane, and raised her sister Dorothy's four children, Debra, Daniel, David, and Dean, after Dorothy's passing.
Caroline graduated from Columbia School of Nursing in 1952 and was an R.N. for over 50 years until she retired. She looked forward to the annual Columbia Nursing's Alumni Awards Dinner every year and she received the 2019 Hall of Fame Award from Columbia College of Nursing for her professional and personal excellence in the practice of nursing. She was a member of St. Paul's Evangelical Lutheran Church in Tess Corners until the inception of Christ Evangelical Lutheran Church in Big Bend where she was an active member of the Ladies Aid. She volunteered as one of the Waukesha County 4H sewing leaders for several years when her children were young. She enjoyed attending the Brickyard 400 and the Indy 500 for several years and continued to watch the races on television each year. Donald and Caroline spent many years traveling the world for both business and pleasure. She will be remembered most for being a loving mother and grandmother and taking care of her family and friends whenever there was a need.
Caroline is survived by her loving husband of 68 years, Donald Earl Wieselmann; one son, Dennis (Ann) Wieselmann of West Allis; two daughters, Donna Pichotta of Michigan, and Diane (Ronald) Bauch of Theresa; six grandchildren, Nicholas Bland, Mark (Megan) Wieselmann, Elizabeth (Brad) Nennig, Gail (Andrew) Sehloff, Thomas (Jeanna) Wieselmann, and Sharon (Andrew Raudabaugh) Bauch, six great-grandchildren; one brother-in-law, Dudley Wieselmann; and special friend Marjorie of Marshfield; and further survived by numerous nieces, nephews, other relatives, and friends.
Caroline was preceded in death by her parents Arthur and Edna Bornfleth; two sisters, Phyllis Hoppe and Dorothy Olejniczak; sister-in-law, Bonnie Wieselmann (nee Ziese); and niece, Lynn Savic (nee Wieselmann); and other relatives.
Due to the current health restrictions, a memorial will be held at a later date.
Please consider signing our online guest book to share your condolences with the family. As an expression of sympathy, memorial contributions may be sent in care of: Myrhum – Patten Funeral and Cremation Service, 1315 W. Washington Street, West Bend, WI 53095.
The family wishes to express their heartfelt thanks to Hope Nursing Home and Hope Senior Living for their excellent care, compassion and love given to Caroline. The family also thanks Myrhum Patten Kietzer-Miller Funeral Home for their service to the family.
Myrhum-Patten Funeral & Cremation Service has been entrusted with Caroline's arrangements.