July 14, 2020 – Slinger, WI – Dellora Margaret Blanchard entered into eternal life on Thursday, July 9, 2020, at the age of 99.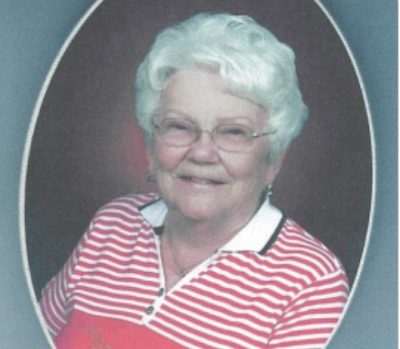 Dellora was born on February 17, 1921 to her parents, Charles and Mary (Kauth) in Milwaukee, Wisconsin. She attended high school in Milwaukee and in her senior year was picked Wisconsin's Cherry Queen which led her to bake pies at Wrigley's in downtown Milwaukee on Wisconsin Avenue. After high school Dellora worked at Citizen's Title and Abstract in the Plankington Arcade on Wisconsin Avenue. She later was employed at A.O. Smith in the Science Building where she met and fell in love with Irvin Blanchard.
Dellora said "yes" and married Irv on June 29, 1946, at Holy Redeemer Catholic Church in Milwaukee. They soon moved to Big Cedar Lake to a home her father and uncle started building but did not finish. Together, Dellora and Irv, completed construction of their new home where she loved raising her family and entertaining friends. They lived there over 50 years creating wonderful memories. Dellora enjoyed roller skating, fishing, sewing, making crafts, league bowling, golfing, card clubs and dominos. She was an active member of St. Peters Catholic Church in Slinger where she became involved in the Christian Women's Organization. Dellora was also a member of Cedar Lake Homemakers and VFW Auxillary Post Slinger.
Dellora is preceded in death by her parents, Charles and Mary Bernhardt, her loving husband of 65 years, Irvin, and her sister, Marilyn Bernhardt. She is survived by her children: Terry Blanchard, Nancy (William) Gruhle and Tom (Dana) Blanchard; her grandchildren: Joe (Christie) Blanchard, Heidi (Lucas) Alonzo, Aaron Gruhle, Heather (Jim) Pham, Troy and Kevin Blanchard; and her great grandchildren: Braydon, Brooklyn and Grayson Blanchard and Isabella and Maxwell Alonzo. She is also survived by other relatives and friends.
A Mass of Christian Burial will take place Thursday, July 16, 2020 at St. Peter Catholic Church, 200 E. Washington Street, Slinger, WI at 10 a.m. A private entombment will take place following the mass.
The family wishes to send a special thank you to Dr. Herdrich (who always lifted mom's spirits), Dr. Hammer; Arlene Barron, Lisa Schmidt and Beverly Meyer from St. Peter Catholic Church; Cedar Bay West and Cedar Community for their tender and loving care to mom and kindness to the family.
In lieu of flowers donations to St. Louis Center, 16195 Old US 12, Chelsea, MI 48118, are appreciated.
Good bye, sweet Mom. May you rest in peace. You will always be loved and missed