July 6, 2022 – Menomonee Falls, WI – Donald C. Dati, age 89, passed peacefully and reunited with his loving wife Carol, Monday, July 4, 2022.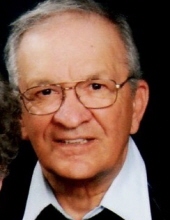 He was born June 23, 1933 in Iron River, MI and preceded in death to parents Medoro and Villelma (Branchini) Dati. Donald is the youngest brother to sisters Genena Anderson, Roberta Schewe, Asfalda Kososki, Eva Scalcucci and brothers Alfred and Vedio Dati, all of whom preceded him in death.
He was a dedicated volunteer for SS Peter & Paul Parish and School of Milwaukee. He proudly served his country in the
US Navy
. He was a dedicated employee as a boilerman for St. Luke's Hospital.
Donald is survived by his; 4 children, Gregg (Jeanne), Brian, Cheryl (Steve) Neder and Janine (Jay) Baudhuin; 11 grandchildren, Gena (Brooks) Renard, Carynne (Pete) Dati, Alex (Jessie); Evann (Bryce) Brooks, Erin Dati and Bradley; Kim (Bryan) Eberle, Stephen (Sarah) Neder, Amy (fiancé Ricky) Neder; Megan (Christian) Vollbrecht, Kaitlyn (Tyler) Luehring; 8 great-grandchildren, Halle, Ronin, Stephen, Stella, Parker, Coralei, Sawyer and Sadie; brother-in-law, Jerry Giuliani. Also survived by other relatives and friends.
Mass of Christian Burial will be celebrated at St. Dominic Catholic Church, 18255 W. Capitol Drive, Brookfield on Wednesday, July 13, 2022 at 1:00 p.m. Visitation for family and friends at the Church from 11:00 AM until the time of Mass. Committal at Norway Township Cemetery, Norway, MI on Thursday, July 14 at 12 p.m.
A special thanks to The Arboretum Senior Community and Froedtert – Community Memorial in Menomonee Falls and Aurora Zilber Family Hospice for their compassionate care and support.
In lieu of flowers, memorials are appreciated to the family to establish future gifts to Froedtert Hospital, The Arboretum and Aurora Zilber Hospice.