January 7, 2023 – Woodland, WI – Donald Carl Braunschweig (Dangerous Donnie and Pa Donnie), 78, entered into
eternal glory in heaven as he was surrounded by his family at his home in Woodland, WI,
after a courageous battle with pancreatic cancer.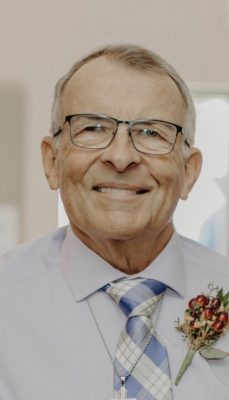 Donnie was born August 29, 1944 in Ashippun, WI son of Carl and Mabel (Henschel)
Braunschweig. On May 25, 1968 Donnie was united in marriage to Darlene (Berghammer)
at St. Mary's in Woodland. It is in Woodland where Donnie and Darlene lived their entire
lives and created a loving family and legacy. Donnie proudly served his country in the
Army National Guard from 1965-1971 obtaining the rank of Specialist.
For many years Donnie worked alongside his father, Carl, on the family farm and then
later operated the Woodland Feed Mill. After his father's death they closed the feed mill
and he started work at Maysteel Corporation where he worked for 29 years as a machinist
and supervisor. In 1989 he started B&B Wood Floors with his wife Darlene. Due to the
unsurpassed quality of workmanship and then word of mouth, the business continued to
grow and flourish. His son Jason took over the business in 2014 but Donnie still
continued to work part-time until he was diagnosed with cancer.
Donnie was a lifelong member of St. John's Lutheran Church in Woodland where he was
first confirmed in his faith. He had great dedication and devotion in all things related to
his church and served in many positions and committees. It was a running joke that Ron
Dahm and Donnie were the oldest members, making them the "founding fathers" of the
church. He served his community for many years as a volunteer fireman for the
Woodland Fire Department and was a charter member of the Herman Sanitary District.
He enjoyed fishing on the lake, hunting pheasants, throwing the baseball with his
grandkids and giving them tractor rides, playing bags at the lodge, shooting dartball,
playing cards, watching sunsets with Darlene on the porch swing, and driving his '63
Thunderbird. But his greatest joy was just being around his family. One of his many
prides was his yard. He spent many hours manicuring his lawn, watering the flowers,
tilling the soil, pulling weeds, harvesting his garden, and of course washing and waxing
his lawn tractor. He loved his birds and had a lifelong obsession with his purple martins,
Marty and Martris.
Faith was the most important part of his life. His love for God, his love for his wife,
children, grandchildren, family and friends, and his love for living was unwavering. He
lived his faith and this showed in everything he did and all who knew him. One of his
greatest enjoyments in life was anything related to his grandkids. He never missed their
school activities and loved watching their sports games, especially baseball. He was the
best "Pa" anyone could ask for and could literally not say no to any request they had for
him, even allowing them to do his hair and makeup and dancing with pompoms as a
cheerleader.
---
2 / 2
He is survived by his wife of 54 years, Darlene (Berghammer), sons Jason (Vikki) of
Neosho, son Joel (Kelly) of Iron Ridge, and daughter Jennifer (Harry) Chadli of Madison.
His grandchildren – Alex (Leah), Emma, Max, Kayla, Sophia, Zaynab, Amina, and
great-grandchildren – Winsley, Weston, Jaylen, Jeremiah, with one more on the way.
Siblings – Judy Mittelstadt, Peggy Davolt, Ken (Diane) Braunschweig, and Mark (Renee)
Braunschweig, Donna and Wayne Neu, and many other family and friends.
He is preceded in death by his parents – Carl, Mabel, and step-father Eddie McDonald, parents-in-law Helen and Walter Berghammer, sister Emily Escobar, brothers in-law Larry Mittelstadt,
John Escobar, and Fred Gutschenritter, and sister-in-law Diane Gutschenritter and many
other family and friends.
Funeral services will be held on Saturday, January 7, 2023 at 2:00pm at St. John's
Lutheran Church in Woodland with Pastor James Castillo officiating. Visitation will be
held at the church on January 7, 2023 from 11:00 am until the time of the service.
Interment will follow at St. Mary's Cemetery in Woodland with graveside military honors
conducted by the Mayville American Legion Post 69.
In lieu of flowers, memorials may be directed to St. John's Lutheran Church Woodland-
Flooring Fund or a charity of your choice.
The Braunschweig family would like to thank Dr. David Chen, Dr. Adam Siegel, the staff of
Vince Lombardi Cancer Center in Summit, and Aurora Hospice for their care and support.
PALLBEARERS

Alex Braunschweig – Grandson
Max Braunschweig – Grandson
Ken Braunschweig – Brother
Mark Braunschweig – Brother
Ronald Dahm – Friend
Robert Wenger – Friend
---