Jan. 31, 2019 – West Bend, WI – Donald John Renner passed away peacefully after a long battle with cancer.  He was born on February 26, 1937 to the late Casper and Stella (Garvens) Renner.  He married Carolyn Ruth on July 6, 1957 at Holy Trinity in Kewaskum.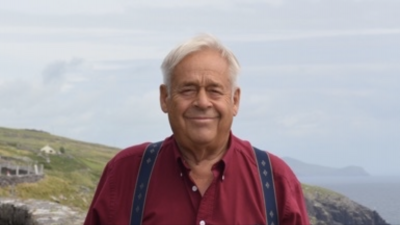 Donald lived life to the fullest enjoying his large family.  He was also a world traveler, taking many trips in the past few years. In his last years Donald really enjoyed his Belgian horses and his beloved dog Jack.
Donald was always busy with multiple projects, his most recent endeavor was moving and restoring his large Victorian home.  He loved socializing with friends while enjoying lunch at Omicron on a daily basis.
He is survived by his children Patricia (Steven) Puestow,  Margaret David,  Judith (Dale) Barber, Anne (Alan) Greene, Generose (Michael) Colligan, Joseph (Natalie) Renner, Donald (Tracy) Renner, John Renner and Elizabeth Renner; Grandchildren Benjamin (Katie) Puestow, Carolyn Puestow and Genna Puestow, Paul (Brigette) David, Andy (Angela) David, Peter (Natalie) David, Sally (Rigo) Iniguez, John (Mandy) David and Joseph David, Angela (Aaron) Pollnow, Kathryn (Eric) Rasmussen, Amy (Chuck) Dricken, Abby (Josh) Greene, Molly (Paul) Friday, Caitlin (Corey) Doering, Sean (Holly) Colligan, Emily Renner, Casper Renner, Olivia Renner, DJ (Katie) Renner and Alexandra Renner;  and 32 Great Grandchildren.
A Celebration of Life to share our favorite memories and moments will be held on Saturday, February 2 from 11 AM until 4 PM at the Columbian, 3245 Lighthouse Lane in West Bend.  A buffet lunch will be served from 12 Noon until 3 PM.  No formal service will be held.