Obituary | Donald "Meisy" Meisenheimer, 83, of West Bend
Jan. 18, 2019 – West Bend, WI – Donald R. "Meisy" Meisenheimer age 83 of West Bend passed away peacefully with his family by his side on Friday, January 18, 2019 at the Kettle Moraine Gardens in Kewaskum. He was born November 28, 1935 in Kewaskum to Harold and Helen (nee Ramel) Meisenheimer.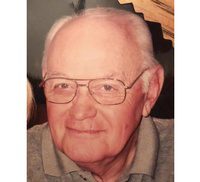 On January 29, 1955 he was united in marriage to Janet B. Zautner at St. John's Lutheran Church in West Bend.
Meisy was raised in Kewaskum and graduated from Kewaskum High School with the class of 1953. He was a tremendous athlete and loved playing baseball and basketball for many years and was an avid fan of all the Wisconsin sports teams and a die-hard Chicago Cubs fan. Up until recently he took great pleasure in supporting his grandson Harry and the Sheboygan A's baseball team.
He was a mail carrier for the city of West Bend for 30 years, retiring in 1991. In retirement he enjoyed golf and woodworking and could often be heard whistling to polka music. He also enjoyed attending and supporting local high school sports.
Meisy is survived by his wife of 63 years, Janet, 4 children: Debra (Joel) Ambelang of Jackson, Scot Meisenheimer of Fond du Lac, Sherry (Jeff Rose) Meisenheimer of Sussex and Susan (Terry) Steldt of West Bend and 6 grandchildren: Shelley (Rob) Janz, Jason (Kim) Meisenheimer, Justin (Christina) Meisenheimer, Jody Meisenheimer, Sarah (Maté) Kramlik and Harold (fiancé Theresa Schultz) Steldt. He is further survived by his 6 great-grandchildren: Helena Saunders, Austin, Alex, Eagan and Isabella Meisenheimer and Thomas Kramlik, his sister Darlene (Jerome) Klein of Winona, MN, brothers and sisters-in-law: Joan Gentry of Tucson, AZ, James (Roseann Leavens) Zautner of West Bend, Joel (Judy) Zautner and Jacalyn (Bill) Vandenberg West Bend and nieces, nephews and other relatives and friends.
He is preceded in death by his parents Harold and Helen Meisenheimer, his son Thomas Meisenheimer and his mother and father-in-law Immanuel and Norma Zautner.
Funeral services will be held Monday, January 21, 2019 at 7:00 p.m. at Pilgrim Evangelical Lutheran Church in West Bend with Rev. Joseph Fisher and Rev. Christopher Raffa officiating. Burial will be Tuesday at 10:30 a.m. in Washington County Memorial Park. The family will greet visitors on Monday, at the church from 4:00 p.m. until 6:45 p.m. In lieu of flowers memorials to Pilgrim Ev. Lutheran Church or the charity of the donor's choice are appreciated.