West Bend, WI – Donna Stockhausen died last weekend surrounded by her loving family. Donna was born on November 29, 1935, in Milwaukee to Milton and Bernice (nee Leach) Schumacher.
She attended Congress Grade School and graduated from Custer High School in Milwaukee.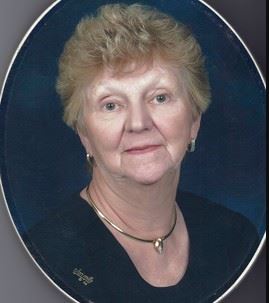 United in marriage on November 6, 1954, to Merlin Stockhausen at Holy Angels Catholic Church. She was a volunteer at many organizations including the VFW Ladies Auxiliary 1393 and making meals for the Builders Association. She was a member of the YMCA where she met many lifelong friends in swimming classes. Donna was involved with the Sister City Exchange program of West Bend.
She enjoyed traveling, including all 50 states and many foreign countries, pontoon riding, cooking, baking, gardening, canning, playing Mahjong, scratch-offs, and patronizing casinos.
She is survived by her husband Merlin of 66 years, 4 children, Debra (Ralph) Steilen, Doug (Gina), Don (Judy), Denise (Florian) Schellinger, 3 grandchildren, Kali Steilen, Bronte, and Spencer Schellinger, her sister Janet Stockhausen and cousin Joe (Nancy) Leach many other relatives and friends.
A Mass of Christian Burial will be held at 11 a.m. on Tuesday, October 26, 2021, with Rev. Howard Haase presiding. Visitation will be at the church on Tuesday from 9 a.m. until 10:45 a.m. Private interment at Holy Angels Cemetery.
In lieu of flowers, memorials to the Threshold or Holy Angels School Trust are appreciated.
The family wishes to thank Horizon Hospice for their care.