November 4, 2019 – Slinger, WI –Dorothy E. Bein (nee Stellhorn), 99, of Slinger died on Thursday, October 31, 2019.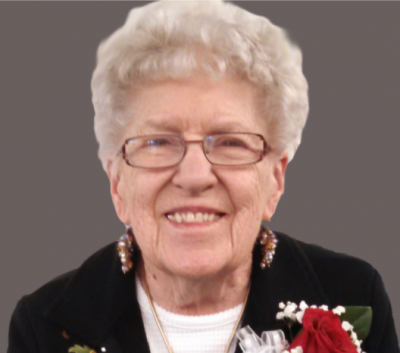 On September 12, 1920 she was born to the late Arthur and Frieda (nee Schumacher) Stellhorn in Watertown, WI. With her sisters, Mildred, Selda, and Ruth, Dorothy sang on Milwaukee radio as the Stellhorn Sisters.
She was a graduate from Milwaukee Lutheran High School and WI State Teacher's College, now known as UW-Milwaukee.
She enlisted in World War II as a Specialist (Instructor) – Second Class in the U.S. Coast Guard. Dorothy was recently thanked for her service on an Honor Flight as the only female veteran on that flight.
Dorothy married Milferd Eggerding in 1945. She served as a teacher at Immanuel Lutheran Elementary School. They lived in Valparaiso, IN, where she had three children, Daniel, Philip and then Michael, who unfortunately died at childbirth. She lost Milferd in a tragic car accident in 1959.
Dorothy married Donald Bein in 1974 and moved to Clovernook neighborhood in Glendale, WI. In 1997 they moved to Cedar Community in West Bend. Dorothy and Don traveled the world during their time together before Don died in 2005.
Dorothy enjoyed art, both creating and viewing, gardening, and cooking. She was a gutsy bridge player and devoted Christian. She had a life well-lived and was loved dearly by all who knew her.
Those Dorothy leaves behind to cherish her memory include her two sons; Dan Eggerding and Phil Eggerding; four step children, Janet Bein, William (Susan Slogoff) Bein, Mary Susan (Richard) Sheaves-Bein, and Carol (Tim) Robinson; three grandchildren, Stephen (Michele Heidel) Bein, David (Laura) Bein, and Kristen Bein; two great grandchildren, twins, Charlotte and Jason Bein; many nieces, nephews, other relatives and friends.
In addition to her parents, she is preceded in death by her husband, Donald Bein; her first husband, Milferd Eggerding; her infant son, Michael; and three sisters, Mildred Schroth, Selda Gehrke, and Ruth Kagelmann.
A memorial service in remembrance of Dorothy will be held on Wednesday, November 27, 2019 at 3:00 p.m. at St. Luke Lutheran Church, 4860 Arthur Rd., Slinger WI. Private interment will be held on Friday, November 29, 2019.
The family will greet relatives and friends on Wednesday from 2:00 p.m. until the time of service.
In lieu of flowers, memorials to St. Luke Lutheran Church, Kingo Lutheran Church, Cedar Community Foundation, or Project RETURN in Dorothy's name is appreciated by the family.
The Myrhum-Patten Funeral and Cremation Service have been entrusted with Dorothy's arrangements.