Obituary | Edna R. Peters, 80, of West Bend
April 2, 2019 – West Bend, WI – Edna R. Peters (nee Beisbier), 80 of West Bend passed away peacefully Monday, April 1, 2019 at the Kathy Hospice surrounded by her family.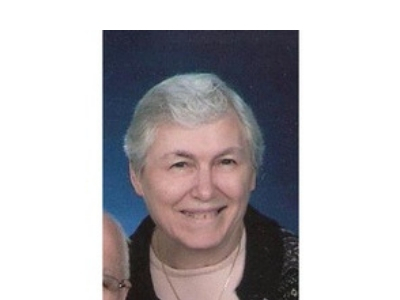 She was born September 13, 1938 in St. Lawrence to John and Cecelia (nee Batzler) Beisbier.
On September 10, 1960 she was united in marriage to Aloys "Al" Peters at Holy Angels Catholic Church in West Bend. He preceded her in death on March 17, 2016.
Edna was a devoted wife, mother, grandmother and great-grandmother who enjoyed spending time with her immediate and extended family. She had the sweetest disposition. Edna cherished and spent many hours with her grandchildren.
For over 20 years she was a dedicated volunteer for Meals on Wheels, often bringing her grandchildren with her. She was an avid gardener and loved her flowers and plants. Edna was an accomplished seamstress and enjoyed making clothing and things for her family and friends.
Edna is survived by her 6 children: Susan (Donald Niemisto) Peters. Annette (Dean) Monahan, Karen (Kevin) Pufahl, Carl (Annie) Peters, Ellen (Scott) Vorderbruggen and John (Gina) Peters and 16 grandchildren: Jason Kohler, DJ Niemisto, Jesse Monahan, Ashley (Brett) Schnirring, Cassie (Zach) Wiklin, Max (fiancé Ashley) Pufahl, Sam Pufahl, Nicole (fiancée Josiah) Vorderbruggen, Rachel (fiancée Trevor) Vorderbruggen, Sarah Vorderbruggen, Alex Vorderbruggen, Elise (Ben) Jondall, Leah Peters, Julia Peters, Jack Peters and Mason Peters. She is further survived by 3 great-grandchildren: Madison Wiklin, Erick Pufahl and Silas Schnirring, 2 brothers: John (Arlene) Beisbier and Oscar (Joanne) Beisbier, brothers-in-law and sisters-in-law: Francis (Rita) Peters, Lillian Ritger, Joseph Schnitzler and Harriet Peters and nieces, nephews other relatives and friends.
She was preceded in death by her parents John and Cecelia Beisbier, her husband Aloys, their infant daughter Mary, her parent-in-laws Henry and Theresa Peters and brothers-in-law and sisters-in-law: Rev. Raymond Peters, Donald Peters and Edmond Peters, Dorothy (Norbert) Baumann, Marie (Edward) Wiedmeyer, Genevieve (Gregory) Wiedmeyer, Anthony Ritger and Henrietta Schnitzler.
A Mass of Christian Burial will take place on Friday, April 5, 2019 at 11:30 a.m. at Holy Angels Catholic Church with Rev. Patrick Heppe presiding. Burial will follow in Holy Angels Cemetery. The family will greet visitors on Thursday, at the Schmidt Funeral Home in West Bend from 4 p.m. until 7 p.m. and also Friday, at the church only from 10 a.m. until 11:15 a.m.
In lieu of flowers memorials to the Holy Angels School Trust Fund, The Kathy Hospice or the American Cancer Society are appreciated.
The family would like to extend a special Thank You to Dr. Bradley for his compassionate care of Edna during her courageous 9 year battle, Sue Thornton for diligently working to make her comfortable in her final days and the staff at Kettle Moraine Gardens and Kathy Hospice for their loving care. Also, thank you to her neighbors Brian and Ann Marie for graciously helping out.