June 3, 2019 – Kewaskum, WI –Edward Joseph Sleger Jr., 92, passed away May 28, 2019, just five months after the death of his wife of 65 years, Diane. He will be remembered by many who attended Kewaskum High School, from 1958-1987, as Mr. Sleger, the math and physics teacher and the football and track coach.  He enjoyed it when former students would share how much they learned from him, and it wasn't always about math.  His quirky "sayings" were oft-repeated, and on any given day students would hear, "Now you know as much about it as I do," "clear as mud," and "you're a gentleman and a scholar."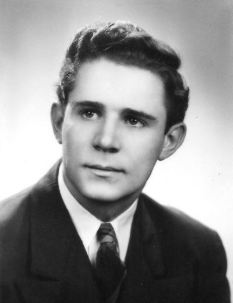 Edward, born November 14, 1926, in Wrightstown, WI, to Edward J. and Caroline (Eckstein) Sleger, grew up in at the St, Joseph's Orphan's Home in Green Bay, Wisconsin with his four older sisters, Ann Carava (deceased), Ruth Schmidt, Grace Lasee (deceased), Dorothy Roberts (deceased)  and younger brother Robert.
He married Diane Otto on August 19, 1953, and raised 10 children: Edward J. 3rd (Patty), Helena Joy Kaiser, Jonathon (Val), Mark, Constance (Scott Giles), Renee (Daniel Boehm, deceased), David (Karen, deceased), Patricia, Robert, and Mary (John Murphy). They lived in rural Kewaskum, WI, for 54 years and recently resided at Kettle Moraine Gardens in Kewaskum.
A lifelong Green Bay Packers fan, Ed recalled once sneaking under a tent as a young boy when the game was played in a local farm field and players split the money from ticket sales for their pay.
Mr. Sleger was a brilliant math and physics teacher, but was also a high-school dropout, leaving school to train as a rifleman in the Army during World War II.  He was training for the invasion of Japan when the United States detonated two nuclear weapons over the Japanese cities of Hiroshima and Nagasaki on August 6 and 9, 1945, respectively. He always felt he would have died if not for those events.  Instead, he was part of the Allied Occupation Forces in the Philippines (1945) and Japan (1946), managing the PX at General Douglas MacArthur's Headquarters.  He later earned his GED, Bachelor's Degree from Carroll College in Waukesha (1951), and Master's Degree from UW-Milwaukee (1965).
Edward will be remembered as a brother ("Bud"), Daddy, "Grampa," teacher, veteran, and truly "a gentleman and a scholar."
Edward is also survived by his 17 grandchildren: Emily, Annie, Joshua, Hannah, Gareth, Aaron, Clair, Andy, Sheyla, David, Maggie, Kate, Anne, June, Frannie, Grace, and Jack; and 6 great-grandchildren.
Services for Edward will be held at Campbellsport Alliance Church, N1876 Co Rd V, Campbellsport, WI 53010, on Sunday June 23. Visitation will begin at 11:30 a.m., with the funeral at 2 p.m. with Military Honors.  The family invites all friends and relatives to a meal following services.
Burial will be at Ledgeview Memorial Park, Veteran's Garden of Valor, N6250 Co Rd K, Fond du Lac, WI 54937 on Monday June 24 at 2 p.m.
Memorials in memory of Edward may be sent to KEYS Scholarship fund benefiting Kewaskum High School Graduates at: KEYS, Inc. P.O. Box 124 Kewaskum, WI  53040 or online at https://keys-scholarships.org/
The family would like to extend love and appreciation to Pastor Doug and Jean Birr and Reverend Joseph Brath for their friendship and ministry to Edward, and to the nurses and staff at Kettle Moraine Gardens, ComForCare, and Aurora At Home Hospice for all their help, love, and care.  Additional thanks and appreciation go to the U.S. Army personnel for their utmost respect and ultimate honor.
The Myhrum Patten Miller & Kietzer Funeral Homes have been entrusted with Edward's arrangements.