December 13, 2019 – Town of Farmington, WI –Estelle L. Matenaer, 86, of the town of Farmington, passed away on Wednesday, December 11, 2019, at Froedtert Hospital in Wauwatosa.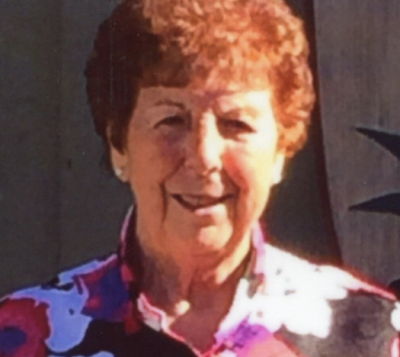 Estelle was born on February 27, 1933, in St. Michaels, the daughter of the late Jacob and Elizabeth (nee Schneider) Schladweiler. On August 11, 1956, she was united in marriage to Ralph A. Matenaer at St. Michael Catholic Church in St. Michael's. Ralph preceded Estelle in death on November 26, 2008.
Estelle and Ralph farmed in St. Michael's for 42 years. Estelle also worked at Enger Kress until starting her family. Estelle was a member of St. Michael Catholic Church and was a member of the Women's Altar Society. In 1973, Estelle and Ralph were awarded the Kewaskum Young Farmers Award and at 2007's State Fair they received a Century Old Farm honor.
Estelle loved spending time with her family. She enjoyed playing cards, especially Sheepshead, bowling in her younger years, going on bus tours and casino trips. She was an avid Brewer and Packer fan and loved watching her children and grandchildren participate in sporting events. Estelle took great pride in keeping the farm immaculate and caring for her many hanging baskets and flower beds.
Those Estelle leaves behind to cherish her memory include five children, Stephanie (Kip) Weiss of West Bend, Joe (Carolyn) Matenaer of Helenville, Janet (Randy) Heberer of Kewaskum, Barbara Chesak of West Bend, and Tony (Amy) Matenaer of Slinger; ten grandchildren, Cody (Katie) Weiss, Casey (Alesa) Weiss, Leslie (Nick) Weiss Russo, Kyle (Rebecca) Matenaer, Logan (Jennifer) Matenaer, Megha Matenaer, Jaedyn Matenaer, Bekki (Casey) Scheel, Erika (Caleb) Olla, and Caitlyn Matenaer; ten great-grandchildren, Ryley, Archer, Henry, Mara, Morgan, Kendall, Griffin, Dominic, Adeline, and Lexi; a sister, Ione Kohlman; brothers and sisters-in-law, Mary Louise (Paul) Yarnig-Wassenberg, Carol (Don) Winninghoff, Steve (Margaret) Matenaer, Gertie Schladweiler and other relatives and friends.
In addition to her husband and parents, Estelle was preceded in death by brothers and sisters, Marcella (Pete) Schmidt, Mildred (Edgar) Wolf, Al (Naomi) Schladweiler, Viola (Clarence) Schoenbeck, Delores (John) Van Beek, Leroy Schladweiler, Clem (Corrine) Schladweiler, Bernice (Ed) Van Beek, Harold Kohlman, and Arnie (Mary) Schladweiler; brothers and sisters-in-law, Leona (Alan) Batzler, Francis (Betty) Matenaer, Adeline (Ed) Volm, Norman (Genevieve) Matenaer, and Ray Yarnig.
A Mass of Christian Burial for Estelle will be held at 6 p.m. on Monday, December 16, 2019, at St. Michael's Catholic Church, 8883 Forest View Road, in St. Michaels with Rev. Jacob Strand officiating. Private burial will take place on Tuesday at St. Michael Catholic Church Cemetery.
Estelle's family will greet relatives and friends at the church on Monday from 3 p.m. until 5:45 p.m.
In lieu of flowers, memorials to St. Michael Building Fund is appreciated to assist in purchasing a St. Michael wooden statue for the altar.
The Myrhum~Patten Funeral Homes have been entrusted with Estelle's arrangements.