December 13, 2019 – Fond du Lac, WI –Richard P. "Rick" Wightman, 50, found peace on Monday, December 9, 2019 after a courageous battle with pancreatic cancer and neuroendocrine cancer, with his loving wife, Petra and his young daughter, Lannaya at his side at Hospice Home of Hope in Fond du Lac.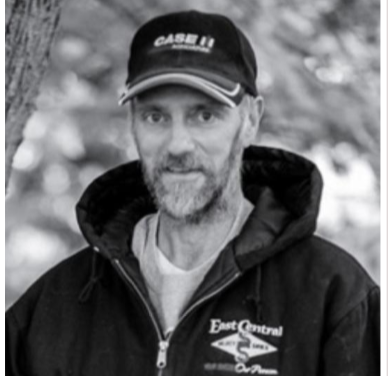 Rick was born on January 11, 1969, in Fond du Lac, the son of the late Richard C. Wightman and the late Janice (nee Jahns) Jozefowski. On September 4, 1998, he was united in marriage to Petra Thull at St. Michael Catholic Church in St. Michaels.
Rick was a lifelong dairy farmer and enjoyed farming the most. He was always willing to lend a helping hand to anyone in need. Rick had a knack for fixing anything and everything on the farm without having to look at the manual.
Those Rick leaves behind to cherish his memory include his wife, Petra; a daughter, Lannaya; his mother-in-law, Ann Thull; three sisters-in-law, Leona Meyer and her daughter: Nicole (Matt) Kuechler and their daughter: Tia Kuechler, Laurice Thull, and Anastasia Thull; a sister, Renee (Michael) Hackbarth and their children: Kaitlyn and Kylie Hackbarth; two half brothers, James and Thomas Wightman and their spouses and children; his step-mother, Sherry Wightman; his step-father, Peter Jozefowski; other relatives and friends.
In addition to his parents, Rick was preceded in death by his father-in-law, Leo Thull; his maternal grandparents and paternal grandparents.
Rick's family will greet relatives and friends on Friday, December 20, 2019, at the Myrhum – Patten Funeral Home, 215 Forest Avenue, in Kewaskum from 3 p.m. until 7 p.m. Visitation will continue the next day on Saturday, December 21, 2019 at St. Paul's Lutheran Church, W2090 Highway 23, in Mount Calvary from 11 a.m. until 2:30 p.m.
Funeral services for Rick will be held at 2:30 p.m. at St. Paul's Lutheran Church in Mount Calvary with Rev. Mark Barenz officiating.
In lieu of flowers, memorials to the family in memory of Rick are appreciated to donate to a charity of the family's choice.
The family extends their heartfelt appreciation to the St. Agnes Cancer Center and Hospital, Dr. Ben George of the Froedtert Cancer Center, Hospice Home of Hope, and a thank you to the St. Paul's Lutheran Church congregation for the out-pouring love and support shown to the family.