August 11, 2020 – Hartford, WI –  Georgine Amanda Esther Schaller (nee Radke) was born the third of five children to Elmer L. and Martha M. Radke (nee Sell) on St. Patrick's Day, Sunday, 17 March 1929, in Hustisford, Wisconsin. Alone with the Lord, she peacefully passed away of natural causes Sunday, 26 July 2020, at Samaritan Health Center, West Bend, Wisconsin. He led her soul Home, to a place of safety and rest, following 91 years and 4 months of life lived with dignity and grace.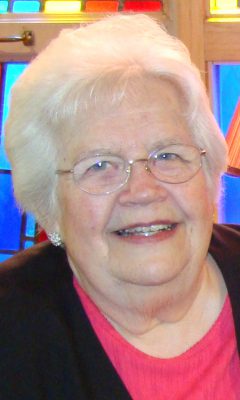 Preceding Georgine in death is her devoted husband, George, 2005; parents; brothers, Orville, Wallace, infant Merlin Gene; 2½ yr old sister, Vermona; parents-in-law, Adam and Gertrude Schaller; sisters-in-law, Florence VanPietersom and Sr. Dorothy Schaller; brother-in-law, Harold VanPietersom; and many other relatives.
Keeping Georgine's treasured memory alive are three, loving daughters; Pam Schaller, Sandy (Carl) Marten, Dona Schaller (husband Michael Wiltsie); cherished granddaughter, Tonya Marten; admired sister-in-law, Ruby Radke; beloved cousin 'kid brother', Ronald Sell; dearly-loved nieces, nephews and cousins; special neighbors and friends.
Affectionately called "Jean" or "Jeanie", Georgine's life began six months prior to the start of The Great Depression, on a farm in the township of Woodland, Dodge Co., Wisconsin. Her family moved to Hartford in 1931, and lived humbly in a three-family house on the corner of E. Sumner and South streets. Around 1960, the house was replaced by a Wisconsin Telephone Co. office, which, interestingly, is where her husband, George, worked out of until 1976.
Georgine attended South Side School, and was a 1947 graduate of Hartford High. Both were one block from her home, south and north respectively. In high school, Georgine was active in Glee Club, GAA, Extemporaneous Reading (a challenge she absolutely loved and excelled at!), as a cheerleader, twirler, drum majorette, typist for the "Orange & Black", served on a variety of committees, and wrote the music and lyrics for her Senior Class song. During those years Georgine also taught Sunday school and sang in the choir at Peace Lutheran Church.
From age 14, Georgine worked at Hartford businesses; Emmer & Zepp (small grocery), Weyenberg Shoe Mfg., West Bend Aluminum (billing dept./switchboard until laid off), clerked at the A&P, Coast to Coast Hardware, waitressed and sang at Zivko's Ballroom. She was also employed in Milwaukee at Heil Co. until 'bumped'… the news arriving on her wedding day. Later on, she did office work at Gateway Nursing Home in Hartford.
Mom was self-assured and motivated. Whatever she wanted to do in life, she'd just go-for-it. Georgine was popular thanks to her radiant smile, easy laughter, positive outlook, genuine friendliness, and people-loving disposition; endearing qualities which naturally attracted others to her life. Wherever she went, her bright aura, kindness and encouraging, complimentary words went with her, and were often expressed in greeting cards and notes she loved to send. Mom was non-judgmental, and gave of herself freely and generously to family, relatives and friends.
The love story of George and Georgine began at Zivko's Ballroom, after meeting during a sports banquet Georgine was waitressing. On Christmas Eve 1952 "Shorty" proposed marriage. She said "Yes!" They were wed Saturday, 26 September 1953, at St. Kilian Catholic Church. Married life began in the flat above her in-laws on Rural St. Four years and two daughters later, Mom and Dad hand-cleared cornfield for their new house in the town of Hartford. They helped finish the inside, moving-in the spring of 1958. A third daughter was born eight years later. In 2004, they commemorated their 51st wedding anniversary and shared a final family Christmas there, before George moved to a nursing facility.
Mom thoroughly enjoyed nature and marveled at God's Creation, especially fond of birds at her feeders and the family dogs. Working in the yard invigorated her, especially in spring and autumn. She possessed a life-long deep, quiet, steady faith, covering her family and daily issues with prayer. The Lord was her guide and Psalm 23 her favorite Bible passage/prayer.
Music was a significant part of her life; took piano lessons, sang for relatives' weddings and at Hartford American Legion Band concerts. During parade season Georgine lead the band with style as Drum Majorette 1947-1953. She enjoyed listening to popular music, dancing and watching musical shows on TV.
Unique highlights in Georgine's life: At 8, a talent scout heard her sing and an offer was made to travel and perform with Skyland Scotty & Lulu Belle ("the sweet hearts of country music"), but her mother declined. At 16, an invitation to attend a Military Ball at Kemper in Boonville, MO. This time, mother and daughter hopped-a-train for a fairy-tale experience of a lifetime! At 23, Georgine's familiarity in Hartford won her 1st Place in the "Miss Liberty" (popularity) Contest. At 83, her first rehab recovery experience was the cover story of Cedar Community's premiere issue of "Cedar Connection."
Early in life, an affinity for nursing developed by helping care for two siblings with Spina Bifida. Grades commensurate with requirements of The Milwaukee School of Nursing, she was about to apply, when her mother suffered a heart attack. Georgine forewent schooling to care for the family, but her hunger for learning about health, and the human body, was life-long. She became a quintessential caregiver in every facet of her life. Generational family care giving repeated itself as her children helped Georgine (who already was using a walker) care for George through 10 years of Alzheimer's dementia. Then, an additional 15 years, serving her daily needs as she further declined. Georgine credited her daughters, and sons-in-law, for adding great quality and years to her and George's lives, through providing advocacy and excellent, personalized care, which continued into the nursing facilities.
Still sharp at 90, Mom could name bosses, co-workers, describe surroundings and detail her responsibilities for each job she had. People, and their lives, were important to her; carried in her heart with respect, affection and warm memories. For Georgine, life was in the details. She did many things with precision, and had an incredible mind for specifics, able to relate, verbatim, something of interest she heard, read, or vividly dreamed. A voice and mannerism for educating, with an ability to interestingly describe, captivated her listeners. Her impeccable recall kept her connected to everything she loved. The gift for recitation was second only to being a laser-focused listener.
Georgine was a dedicated wife and mother who cherished, and was supportive of, her family. Her hands were rarely still. She warmly embraced homemaking with ease and contentedness, providing nutritious, homemade meals, patiently teaching life skills and sharing a wealth of knowledge. Mom cultivated our interests with lessons and learning materials. Musical talent was nurtured by teaching us to play the chord organ, providing instruments for band and encouraging us when we sang. Through our school years and beyond, Mom never missed a performance.
Simply put, Mom had a zest for life! One was never beyond the reach of her enthusiasm for living, for learning and doing, and the motivation she lavished on everyone. Mom was a sheer delight to be around. Any space was brighter with her in it.
Persevering with incredible determination, Georgine endured 30 years of failing mobility and the ravages of Trigeminal Neuralgia. Conducting life from her lift chair with great fortitude, one momentarily forgot the myriad of needs and restrictions which imprisoned her. Her strong, lively voice, and cheerful countenance, was that of a much younger woman.
Mom was realistic, logical, creative, had a terrific sense of humor, playful, youthful in her thoughts, current and brimming with common sense. A highly reliable person with a most consistent personality. Taking life in stride, rarely complaining, always grateful, she found the 'silver lining' in every situation and maintained a hopeful view for better days ahead. "It is what it is; we must learn to accept it," she would say. "Life isn't fair, but God is good."
Georgine will be remembered by those who admired her as a woman of integrity and abiding faith, who gently touched countless lives with endless compassion, thoughtfulness and a huge, open heart which was quick to forgive and forget. As her brother, Orville, before her, she was an amazing source of inspiration, a disciple of peace, and an example to follow regarding 'The Golden Rule'.
Love Lives On!
**********************************************************************
May God Richly Bless EVERYONE who touched Georgine's life. Those who selflessly served her and helped our family through many difficult times, especially since 13 March 2020, when COVID-19 pandemic lock-down restrictions prevented our daily, in-person visits with Mom. Heartfelt gratitude to clergy; countless prayer warriors; phenomenal medical professionals; rehab therapists; alternative health care practitioners; her palliative care team; ComForCare Home Care; Shared Ride Taxi and Interfaith Caregivers (both of Washington Co.) for 15 years of safe, friendly, reliable transportation; Samaritan Health Center: those individuals of integrity who personally devoted the highest quality of service and care possible during her final 17 months; Optum; the 'RN earthly angels' of Compassus Hospice.
A Celebration of Life honoring Georgine will be held at a later date when traditional interaction is safe.
Private burial and inurnment, Pleasant Hill Cemetery, Hartford, Wisconsin.