January 28, 2021 – West Bend, WI – Geraldine Frances (Falco) Ward, 85, passed away at her home on Friday, January 22, 2021 with her family by her side.
Gerry was born June 21, 1935 in Chicago, IL to Giro and Helen (Klimke) Falco. She went to Fenger High School where she was active in Water Ballet, Bowling, and Softball. After graduation in 1953, she went to work for an Ad Agency in downtown Chicago. In 1957, she met Garnet and they wed February 8, 1958. They were married for 60 years and had four children, Gina, Kelley, Garnet and Kim. For 19 years, Garnet and Gerry successfully ran Aqua Prep Inc., an Industrial Water Treatment Company Garnet started with two business partners.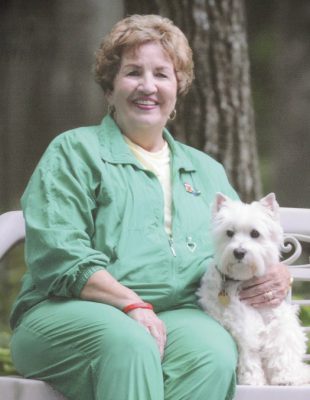 Gerry was a loving and dedicated Mother and Grandmother, always encouraging her children and grandchildren to pursue their passions. Whenever she sensed discouragement, her motivating statement to her children was "I can do it, I will do it". Family came first to Gerry, a value she instilled in all those around her. Giving back to her community was very important to her. Whether that was with the St. Joseph's Hospital Auxiliary in West Bend, WI or volunteering at Help of Door County, being of service gave her purpose and brought her joy. She also enjoyed the Sturgeon Bay YMCA and the many friends she made in the Cardiac Rehab Program.
Gerry was preceded in death by her husband, Garnet Jr., her parents, Giro and Helen, her sister, Mary, her brother, Giro, her parents-in-law, Garnet Sr. and Lillian, and her brother in-law, Jack.
She is survived by her four children and seven grandchildren, Gina L. Ward [and son, Jack], Kelley (John) Spors [and daughters, Unique and Iyana], Garnet (Debby) Ward III [and sons, Ethan, Griffin, and Wesley], and Kimberly Ward [and daughter, Sofia], and her sister, Kathleen Falco (Elliot Daldos).
Gerry had a kind and generous heart that will be truly missed by her family, her dear friends, Joanne Zuba, Linell Szurgot, and LaVonne Mueller, and her dog, Bella.
A Memorial Service will be held in late Spring at Washington County Memorial Park, 3358 Paradise Dr., West Bend, WI. Date to be determined.
Memorials in Gerry's name may be made to a Cancer Foundation of your choice or Feed and Clothe My People in Sturgeon Bay.