West Bend, WI – Grant James Peterson, 20, of West Bend, WI was taken to his home in heaven to live eternally with his loving Savior on December 28, 2022 as the result of an auto accident.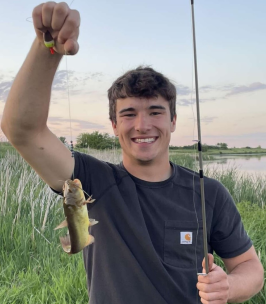 Grant was born at home to parents David and Kristin (Rodell) Peterson on December 15, 2002. He was baptized into the family of Christ on December 29, 2002 and confirmed on May 21, 2017, both at Shepherd of the Hills Lutheran Church in West Bend.
We can take comfort in the confirmation verse he chose, "As for God, his way is perfect: The Lord's word is flawless; he shields all who take refuge in him." 2 Samuel 22:31. Grant did not hesitate to say he would be in heaven with Jesus when he died.
He knew when his race here on Earth was done, he would obtain the ultimate prize — eternal life and salvation won for him and freely given through Jesus Christ's death and resurrection.
He was blessed to receive a Christ-centered education at home with his siblings for his elementary, middle, and high school years while also supplementing his education with some classes at West Bend West High School.
In light of his passing, his family is now even more grateful for the opportunity they had to spend so much time together as they learned and grew together at home and on the many educational field trips they took.
Grant was a hard worker and enjoyed working in a variety of job settings during his teenage years.
Teaching archery and other youth sports classes for the West Bend Rec. Department and shoveling for Extra Mile Snow are just a couple of the many roles he had. Following his high school graduation in June 2021, Grant attended Moraine Park Technical College in Beaver Dam and graduated in May 2022 with a Technical Diploma in Electrical Power Distribution. In June 2022, he began his career with WE Energies as a Lineman Apprentice in Menomonee Falls, a job he truly loved because it allowed him to work actively outdoors in all kinds of weather while helping others.
As a member of the Badger Boosters 4-H Club from kindergarten through 12th grade, Grant learned a wide variety of skills, such as shooting archery and showing llamas, and also served as a Youth Leader to teach those skills to other 4-H youth. Serving his church family at Shepherd of the Hills Lutheran Church had always been important to Grant, and he was presently involved in running the audiovisual equipment for services and, during his high school years, also served as an assistant in children's Sunday school classes.
Grant used his God-given gifts of athletic ability, boundless energy, and natural leadership to bring glory to his Savior through his involvement on various sports teams. He looked forward to each basketball season as he played on WCHSA (Washington County Homeschool Athletics) teams from grades 7-12.
Playing with his teammates in the National Christian Homeschool Basketball Championship in Missouri multiple years was a highlight for him. He also loved running on WCHSA track and cross-country teams during his grade school and early high school years. In grades 11-12, he ran on the West Bend West High School track and cross-country teams and particularly enjoyed competing in the state cross country meet his junior year and leading his teammates as a captain for both teams his senior year.
Grant loved all sorts of outdoor activities, especially downhill skiing and fishing. In winter, he enjoyed skiing on the terrain park at Little Switzerland and other ski areas, perfecting his tricks on the rails and jumps. The other seasons found him fishing on area lakes and rivers, oftentimes with his best buddy and oldest brother Jared, friends, younger siblings, and dad. Grant also played the piano and took lessons for ten years.
God created Grant to be outgoing, friendly, and able to communicate with all ages as he served as a shining light for Jesus. His big smile and quick wit were two of his defining characteristics. As the second oldest of seven children, Grant was completely loved and adored by all six of his siblings and his parents, and he had a close, unique relationship with each one of them. They now look forward to a joyful reunion with Grant in heaven! Grant loved his family members and friends fiercely and made sure that they knew it. One of his greatest joys in life was spending time with his girlfriend of four years, Bekah, with whom he planned to spend his entire life.
Survivors include his parents; siblings Jared, Linnea, Dawson, Karina, Mathias, and Seth Peterson; grandparents James, Sr. and Sandra Rodell; uncles and aunts Paul and Lisa Hetzel, James, Jr. and Colleen Rodell, Jon and Julie Etta, and Justin and Veronica Rodell; cousins Emma, Benjamin, and Grace Hetzel, Eric and Ethan Rodell, Katherine, Kevin, and Rachel Etta, and Wilhelmina and Frederick Rodell; love of his life Rebekah Ulik and her parents Chad and Kris Ulik and her sisters Mia and Julia; other relatives and friends. Grant was preceded in death by grandparents Duane and Mary Peterson.
A Celebration of Life will be at 4 p.m. on Sunday, January 8, 2023 at Good Shepherd Ev. Lutheran Church (777 S. Indiana Ave. West Bend, WI 53095) with Pastor Darren Knoll and Pastor Clark Schultz presiding. Visitation will be prior at church on Sunday, January 8th from 1 p.m. until 3:45 p.m.
Memorials may be directed to Shepherd of the Hills Lutheran Church Building Fund https://www.shepherdofthehillswi.com/page/memorials-and-gifts or Washington County Homeschool Athletics https://www.zeffy.com/en-US/donation-form/7e5e25a2-b6fa-4dac-b6d3-e06e39fb3287
Visitation

When

Sunday, January 8, 2023 1 p.m. – 3:45 p.m.

Good Shepherd Ev. Lutheran Church, 777 S. Indiana Ave, West Bend, WI

Celebration of Life

When: Sunday, January 8, 2023 4 p.m.

Good Shepherd Ev. Lutheran Church, 777 S. Indiana Ave, West Bend, WI

Officiant Pastor Darren Knoll

Co-Celebrant Pastor Clark Schulz

Phillip Funeral Home is handling the arrangements.