May 1, 2020 – Kewaskum, WI – James G. "Jonesy" Korth, 71, of Kewaskum, passed away on Monday, April 27, 2020, at Froedtert Hospital in Wauwatosa with his family at his side.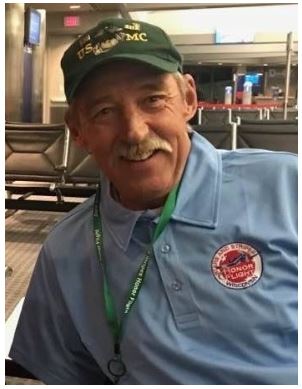 Jonesy was born on September 5, 1948, in West Bend, the son of the late Gilbert "Bud" and Lorraine "Tudy" (nee Honeck) Korth. Jonesy proudly served his country in the U.S. Marine Corps. from 1969-1971 and he attended the Stars and Stripes Honor Flight with his son in November of 2017.
Following his service, Jonesy returned to work on his family owned golf course where he was the driving force in creating an additional 18 holes, making it a 27-hole golf course. Golfing and maintaining the golf course were two of his passions in life. He took pride in having people come and enjoy something he was able to work so hard at each day. Jonesy was known to all as being a tireless worker both on and off the course, and his ingenuity and resourcefulness allowed him to pretty much fix anything!
Jonesy touched many lives through many activities. He was well-known for his years of dedicated service to the American Legion POST 384 and the Kewaskum Gridiron Football Program. Other hobbies included his deer farm, hunting interests, guns & shooting, boating, traveling, Harley riding, listening to good music, cutting firewood and other outdoor activities.
Those Jonesy leaves behind to cherish his memory include best friend and fiance Kay Herman; children, Kelly (Brad) Nerat, Jesse (Julie) Korth, Kate Korth, and Michael Korth, and step children, Tyler Wagner (fiance Ashley), Brooke (Ryan)Theusch, Ashley Kuechler (friend Luke Kreis); six grandchildren, Grace, Joseph, and Evelyn Nerat, Eden, Warren and Eleanor Korth; Niece, Jamie (Paul) Dixon; Nephew, Jerad (Kelly) Wienfurter; and his loyal dog, Arnold; other relatives and friends.
In addition to his parents, Jonesy was preceded in death by a sister, Jean Ward.
Due to current restrictions, a private service with Rev. Eric Kirkegaard officiating will be held for Jonesy's family at Hon-E-Kor Golf Course.
Please feel free to join the family for military honors at 3:45 p.m. on Friday, May 1, 2020, in the golf course parking lot. To honor Jonesy's life there will be a Celebration of Life held at a later date!
In honor of Jonesy's memory, memorials to the family are appreciated.
Please consider signing our online guest book to share your condolences with the family. Cards addressed to the family may be sent in care of: Myrhum – Patten Funeral and Cremation Service, 1315 W. Washington Street, West Bend, WI 53095.