September 27, 2019 – West Bend, WI – Janet M. Roberson passed away Wednesday, September 25, 2019 with her family present. She was born in Milwaukee on June 28, 1926 to Oswald and Anna Lietzau (Joecks). She graduated from Rufus King High School in 1944. She moved to Washington D.C. briefly and worked as a clerk typist for the FBI. She returned to Milwaukee and fell in love and married Chester H. Roberson on June 5, 1948. She later worked at JCPenney Catalog Outlet for many years.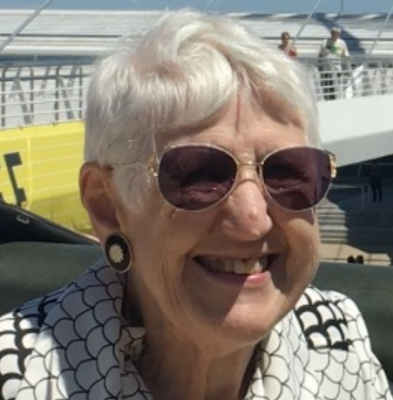 She had one son Randy (Shawn) Wisconsin Rapids, three grandchildren Jason (Jeanne) Milwaukee, Mathew (Tracie) Stevens Point and Sara Roberson (Wisconsin Rapids), and 3 great grandchildren – Noah, Annabelle & Charlotte. Further survived by nephew Marty (Linda) Augustine Green Bay, nieces Sheryl Seifert and Darlene Ennis both of Slinger.
They resided in Menomonee Falls and Milwaukee until they found their dream retirement home at Cedar Ridge in 1988. She remained very active in chapel services and volunteer work for thirty years often smiling as she delivered chapel bulletins to anyone who couldn't make it. She greeted everyone – friends, nurses and staff as "honey or sweetie" until the very end. She loved square dancing with Chet and the Kettle Moraine Squares, playing sheepshead and dancing to all the old crooners.
She was preceded in death by her parents, husband Chester, brother Buddy and sister in law Irma Lietzau, two nephews Gary and Johnny Lietzau and numerous cousins from the Joecks family in Lannon. She will be truly missed by all her honeys
In lieu of flowers, memorials are appreciated to St. Jude's Children's Research Hospital, 501 St. Jude Pl, Memphis TN, 38105.
A Memorial Service will be at 12 p.m. on Thursday, October 3, 2019 at the Phillip Funeral Home Chapel, 1420 W. Paradise Dr. West Bend, WI 53095, with Chaplain Robert Wells Presiding. Visitation will be at the funeral home on Thursday, October 3 from 10 a.m. until 11:45 a.m.