September 16, 2020 – Town of Hartford, WI – Joanna Jazdzewski, 82, died suddenly on Sep. 13, 2020 in the town of Hartford.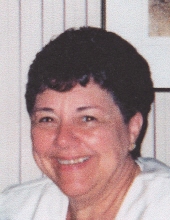 Joanna was born June 5, 1938 in Slinger as the third of five children to Joseph and Lorraine (Kratz) Wagner.
She recalled living in a one-room school house east of Ackerville when she was little girl.
At Hartford, she flourished… Senior Honors, Hartford Players/Dramatic Club, Girl's Chorus, typist on Oriole staff and G.A.A. girls volleyball team, graduating in 1956. She was married the following year on Aug. 31, 1957 at St. Kilian's Catholic church in Hartford to James Von Haden, whom she met when he would come in for coffee where she waitressed.
They moved around a bit at first… Slinger, Neosho, Hartford, Marshall, Kenosha. They returned to Hartford in 1968 and squeezed a family of five and their cocker spaniel Tina into a 900-square-foot home.
Joanna enjoyed fishing, sewing, computers, also playing sheepshead with Grandpa and Grandma Wagner and her sister Judy and Judy's husband Dick.
Often Christmas Eve started with cards until 11:30 p.m. when extended family went to midnight Mass, no matter how cold it was.
Many summers included a week of vacation up north with Dick and Judy's family.
She did so much for her family, especially for her children… Cub Scout den mother, making homemade (sometimes prize winning) Halloween costumes, decorating bikes for the Fourth of July parades, getting the kids to swim lessons, attending frequent band concerts for all three, afternoon trips to Northridge Mall for movies.
She also taught her kids to save for the future… starting the good habit of putting half of their paper route money into savings accounts.
She continued waitressing, working at Howard Johnson's on campus in Madison and later at the Fox and Hounds in Hubertus. Waitressing meant long hours, tired feet and working almost all evenings and weekends, taking time away from the family she loved.
One night, her boss would not remove her from the schedule on the evening of an upcoming school band concert. She thought about it, then went back and told him that she had solved the problem. She quit on the spot.
Within days (might have been the next day) she had a new job at Broan Manufacturing and thus her evenings and weekends were free!
In 1977, Jim built a nice home north of town where they lived when he passed away in 1984, ten days after his 50th birthday.
Joanna continued working, for years riding her moped to work. She transitioned to working in the credit department and had many friends there, retiring from Broan in April, 2002.
She loved going to Janice's softball games, family gatherings and dinner outings, especially Snapper Vic's and more recently the Red Apple. She and Janice loved going to many music concerts, including Reba McIntyre, Cher and her favorite, Garth Brooks.
She found love a second time with Don Jazdzewski, who was also widowed himself.
Don was a former neighbor and Jim's former State Patrol partner so the whole family already knew him.
They married on June 24, 2000 at St. Lawrence Catholic church.
Joanna and Don loved to travel. They enjoyed trips to Washington, DC, the Black Hills and Mount Rushmore, visits to Don's family in Michigan and cruises to Alaska, the Panama Canal, Costa Rica and Hawaii.
Their last trip together included her whole family to Door County in September, 2017 for their first fish boil.
They loved going to movies with Janice and other family, particularly her grandchildren.
Don passed away last year, just after Thanksgiving. She continued living at the Gardens where they had been living only a few months.
She was hoping to move to an apartment, but when COVID hit, she instead moved into Janice's home five months ago.
At Janice's, her daily chore was to clean the cats' litter box. Every night about 9:30, Janice would ask "Mom, do you want me to do your chore?" and with a big smile, she'd say "Yes, please!"
Despite COVID restrictions, she was able to celebrate her birthday in Janice's back yard with her family and sisters.
Joanna is survived by three children, Jeffrey (friend Patty), John (Michelle) and Janice Von Haden; four grandchildren, Werner, Hailee, Grant and Parker Von Haden; two sisters Judy (Dick) Wagner and Joyce (friend Dennis) Christman.
Besides Jim and Don, she was preceded by two brothers and their wives, James (Elfrieda) Wagner and Robert (Ruth) Wagner.
Memorial Mass of Christian Burial will be celebrated at St. Lawrence Catholic Church, 4886 Hwy 175, Hartford on Saturday, Sep. 19, at 10am. Please bring and wear masks for the ceremony.
A private burial will occur at a future date.
Immediately afterwards, we'll go three miles north and have a celebration of her life at Veteran's Memorial Park on First Street in Allenton (next to the Addison Town Hall).
We'll be able to be outside with a pavilion in case of rain. For lunch, we'll have individually wrapped sub sandwich slices, chips, cupcakes and refreshments. You can let John know at [email protected] if you'd like lunch.
Please come to the Celebration of Life even if you cannot attend the mass or would arrive after you have already had lunch. We've got a lot to celebrate and many of Mom's friends and family to see, so we'll be there well into the afternoon.