May 5, 2023 – Washington Co., WI – John B. Grotelueschen, 91, of Fredonia, formerly of Mayville, passed away on Saturday, April 29, 2023, at Forest Haven in Fredonia.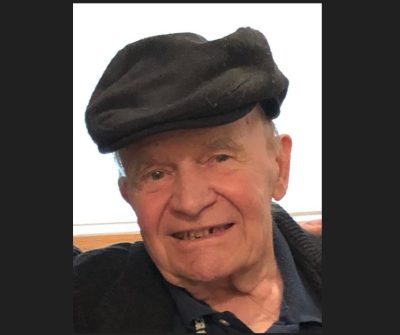 John was born on May 22, 1931, in the Town of Saukville to Walter and Pearl (nee Jamrosy) Grotelueschen. John grew up on the family homestead and graduated from West Bend High School in 1948.
On October 16, 1954, John was united in marriage to Margaret Krejci of West Bend. The couple were married for 57 ½ years and raised seven children. John and Marge stayed on the homestead and operated the farm before moving in 1966 to farm in the Town of Herman, Dodge County. In 1981, John and his wife purchased the Hillcrest Inn on Hwy. 33 and P and continued to farm while operating the facility. After his wife's death in 2012, John continued to operate the Hillcrest Inn until it was sold in 2019.
John spent the last few years of his life at Forest Haven in Fredonia. He enjoyed going on walks around town, being able to attend some of his grandchildren's school events, and the many visits from family and friends.
John was a caring person who believed in helping and serving others. He honorably served the United States Army during the Korean War. He served as Chairman for the Town of Herman in Dodge County for 22 years and was a member of the Allenton Lions Club for over 30 years. He was also an active member of Zum Kripplein Christi Church and the Farm Bureau. He will be remembered for his generosity, kind heart, loving ways, quiet demeanor, and sense of humor.
Those John leaves behind to cherish his memory include his five children: John (Brenda) Grotelueschen of Mayville, Jay (Melinda) Grotelueschen of Orlando, FL., Jeff (Mary) Grotelueschen of Madison, Jim (Rebekah) Grotelueschen of Watertown, and Jill (John) Tinder of Fredonia; 17 grandchildren: Matthew (Sarah), Michael, Elizibeth, Jacob (Lynsey), Andrew, Sean, Grant, Izu "Lindsey", Alex "Amanda", Greta, Owen, Kyle, Kathilynne (Zeke), Kevin (Brittany), Grace, Sarah, and Emily; 12 great-grandchildren: Ava, Layla, Eliana, Victoria, Ezra, Bowie, Wilder, Cash, Eden, Eli, Dominic, and Chloe. He is further survived by his sister, Judy (Jim) Kocher; brother-in-law, Paul Krejci; sister-in-law, Donna Krejci; nieces; nephews; and many other close relatives and friends.
In addition to his parents, he is preceded in death by his wife, Margaret Grotelueschen; two sons: Joey and Jerry Grotelueschen; sister, Mary Ann (Donald) Bowe; two brothers: Walter (Marjorie) and Donald Grotelueschen; two sisters-in-law: Ruth (Jim) Kincaide and Roseanne Krejci; and brother-in-law, Dan Krejci.
VISITATION; John's family will greet family and friends on Wednesday, May 17, 2023, from 4:00 p.m. until 7:00 p.m. at Myrhum-Patten Funeral & Cremation Service, 1315 W. Washington St., West Bend. Visitation will continue on Thursday, May 18, 2023, from 10:00 a.m. until 11:45 p.m. at Trinity Community Center, 6409 County Rd., P, Mayville WI, 53050.
SERVICE: A funeral service in remembrance of John will take place at 12:00 p.m. on Thursday, May 18, 2023, at Trinity Community Center, 6409 County Rd., P, Mayville WI, 53050. The burial will take place at Zum Kripplein Christi Church Cemetery.
The family would like to thank the staff at Forest Haven in Fredonia for the loving and supportive care they provided him over the last 4 ½ years. He enjoyed joking around with all of you.