Obituary | Lorraine Ann Hetzel, 97, of Hartford
December 25, 2019 – Hartford, WI –Lorraine A. Hetzel (née Martin) of Hartford was born into Eternal Life on December 23, 2019 at the age of 97. Lorraine was born on March 24, 1922, the only daughter of Matthias and Clara (nee Specht) Martin, in Kaukauna, WI.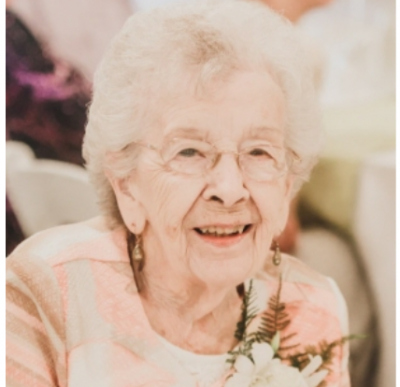 Lorraine attended St. Mary's Catholic grade school and graduated from Kaukauna High School in 1939. From an early age, Lorraine was inspired by music and became an accomplished musician. Lorraine studied piano privately and at the Lawrence Conservatory of Music in Appleton for twelve years. In addition to playing the organ at Masses at St. Mary's, Lorraine also played piano in two dance bands, including big band music with the Sophisticated Swingsters and in a polka band. Lorraine also was active playing piano at the Elks Club and dance halls in the Fox Valley for numerous events. She continued her love of music throughout her years, inspiring and performing with her granddaughter in a piano competition.
Lorraine was employed with the NYA in Kaukauna from 1939-1943. Lorraine moved to Milwaukee, living at St. Catherine Residence for Women and working for the U.S. Army Corps of Engineers as an administrative secretary from 1943-1946. Following WWII, Lorraine joined the LeRoi Corporation as an administrative secretary from 1946 until her marriage in June 1948.
Lorraine met Martin Hetzel in1947 at Moose Lake and the beginning of their life-long love began. They married on June 12, 1948 at St. Mary's in Kaukauna, moving to Hartford to start their family there. They have been devoted to each other in their blessed marriage of 69 years. In addition to being an amazing and loving mother to her 6 children, Lorraine worked at the Hartford Public Library and established her own business in magazine sales and services for many years serving area individuals, businesses, professional offices and schools. Lorraine was a dedicated and lifelong volunteer in the community, serving for years as chair of numerous community fund drives, St. Kilian's parish and school volunteer, St. Kilian's School Board, Hartford Memorial Hospital volunteer, and coordinator of volunteers for the Hartford Auto Museum. Lorraine played the organ for weekly Mass at the Hartford Care Center for 34 years. Lorraine's keen sense of organization, intelligence, bright personality and strong work ethic made her a valuable asset to many church and community efforts throughout her life in Hartford.
Lorraine's favorite times were spent creating a welcoming home for her husband, children, grandchildren, and great-grandchildren. Whether bringing life to her beautiful gardens, baking abundant treats in her kitchen, or pulling up a chair to listen to the latest life story, her attention was always given to making family time matter. She instilled her love of music in all her children and grandchildren. Her piano music rang out throughout her home for every family gathering, especially during Christmas family sing-alongs. Lorraine's motto of "every drop of love counts" defined her life.
Lorraine is survived by her loving children; Mark (Chris) of Waunakee, Mary Jo Kerke (John) of Berwyn, IL, Robert of LaCrosse, Ann Roy (Tom) of Plymouth, Paul (Doris) of Milwaukee and daughter-in-law Mary Kay Davies-Hetzel of Greendale; her treasured grandchildren; Becky Pilarzyk, Jennifer Ziegler and Kevin Hetzel , Kate Hodges and Rob Hetzel, Adam Kerke and Katie Rousonelos, Logan Roy, Emma Dodge and Isabel Roy, and Claire Hetzel; three great- grandchildren, Anya, Ivan and Charlotte; and sisters-in-law, Mary Martin of Verona and Virginia (James) Menzel of West Bend. She is further survived by nieces, nephews, godchildren, other relatives, and many life-long friends. Lorraine was preceded in death by her devoted husband Martin, her oldest son Michael, her parents, and her four brothers, Paul, Luke, Mark and John Martin.
Lorraine will lie in state in the St. Kilian's Gathering Space from 10 a.m. – 12 p.m. on December 26, 2019 followed by the Mass of Resurrection at 12 p.m. Rev. David LaPlante will officiate. Private interment will be at the St. Kilian's Cemetery.
Memorials to the St. Kilian's Renovation Fund to celebrate her commitment to her faith will be appreciated. We are grateful for the gift she was in our lives!