Obituary | Michael "Mickey" Vincent Hesprich, 77, of Hartford
June 20, 2020 – Hartford, WI – Michael Vincent Hesprich "Mickey," 77 of Hartford, Wisconsin passed away in the comfort of his home Wednesday, June 17, 2020 surrounded by his loving family.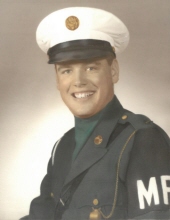 Mickey was born September 9, 1942 at the Hartford Hospital to Hattie (nee Gornjak) and Vincent Hesprich. He attended St. Kilian Catholic Elementary and Middle School, where he served as an altar boy. Mickey graduated from Hartford Union High School, where he set the school and conference record of 40 points in boys' basketball. Mickey served our country in the United States Army and was a military policeman in Germany. He was united in marriage to Carol J. Kunz on May 29, 1965.
"Mickey the Mailman" walked the world three times before retiring from 41 ½ years as a mail carrier for the Hartford Post Office. Mickey was also well known in many local restaurants where he tended bar. He played for Lau's softball team, enjoyed playing golf, cribbage, Sheepshead, Eucher, and teaching his grandchildren how to play cards.
He also enjoyed watching the Green Bay Packers and Milwaukee Brewers, vacationing in Door County, drinking Old Fashioneds, hanging out with friends and the "Fab 5", storytelling, reading and knowing about the world's occurrences, and genuinely took an interest in everyone's lives. Mickey had a very distinctive voice, but most of all has left a lasting impression in many lives. In 1977 he was nominated by the City of Hartford to receive the "Outstanding Young Man Award" for his devotion to the community: serving as federal government section chairman for the United Fund, serving as acting Mayor, long serving member and President of the Hartford Common Council, and served the youth as a basketball referee and baseball umpire.
Mickey is survived by his beloved wife of 55 years, Carol; loving children, Luke Michael (Catherine R.) Hesprich and Rachel A. (Jason "Chip" Summers) Hesprich; cherished grandchildren, Vincent T. S. Hesprich, Jack M. H. Summers, and Will C. H. Summers; dear brother, John Hesprich; and sisters-in-law, Judy Whelan and Georgia Hesprich. He is further survived by many other relatives and friends.
He was preceded in death by his parents; in-laws Armond and Leila Kunz, brother, Steven A. Hesprich; sister, Lyanne B. (James) Collins; and brother-in-law, Thomas Whelan.
A Memorial Mass for Mickey will be held at St. Kilian Catholic Church (264 W. State Street Hartford, WI 53027) on September 9, 2020. Details to follow. Please visit the Shimon Funeral Home website for service confirmation.
Contributions to a charity of one's choice in Mickey's memory are appreciated.