June 20, 2020 – Kewaskum, WI – Elvira Mae Nigh (Meyer), 88, of Kewaskum was called home to be with the Lord on June 16, 2020 at Kettle Moraine Gardens in Kewaskum.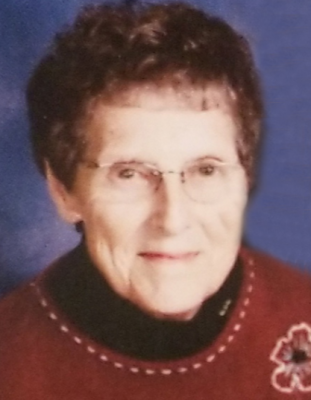 Elvira was born on May 3, 1932 in Fond du Lac to Fred and Ella Meyer (Block). She was united in marriage to Vincent J. Nigh on April 24, 1954 at Holy Trinity Catholic Church in Kewaskum.
Elvira graduated from Kewaskum High School in 1951. She was worked at St. Joseph Hospital in West Bend and Dairy Queen in Kewaskum her younger years. Later, she was Guidance Secretary at the Kewaskum High School where she worked for 20 years and retired in 1994.
Elvira enjoyed knitting, sewing, playing Sheepshead, and most of all spending time with her family.
Those Elvira leaves behind to cherish her memory include her husband of 66 years, Vincent; three children, Mike, Karen and Connie; grandchildren, Lindsay, Amy, Stephanie and Melanie; three great-grandchildren, Kaylynn, Cole and Noah. She is further survived by sisters-in-law and brothers-in-law, Bonnie Meyer, Marion (Jerry) Darmondy, Agnes Bird, Laura Nigh, Jerry (Beverly) Nigh, David (Barb) Nigh, Barb (Dale) Timmler; as well as nieces, nephews, other relatives and friends.
In addition to her parents, Elvira was preceded in death by her infant son, Randy; and four siblings, Dolores (Melvin Hackbarth – 1st) (Earl – 2nd) Kurth, Valeria Meyer, Bill (Janet) Meyer and Carl Meyer; brothers-in-law, Gregor (Anna) Nigh, Alban (Dorothy) Nigh, Willard (Marge) Blanke, Virgil Bird, Leo (Esther) Nigh, and Lawrence Nigh.
Funeral Service for Elvira will be held at 2:30 p.m. on Friday, June 26, 2020 at Myrhum-Patten Funeral Home, 215 Forest Ave – Kewaskum, WI 53040, with Rev. James Hoogervorst officiating. Private Burial at Holy Trinity Cemetery in Kewaskum at a later date.
Elvira's family has requested for all in attendance to wear masks during the services and observe appropriate social distancing. Visitation will begin at 1 p.m. on Friday at the funeral home where masks and hand sanitizer will be available at the door.
Elvira's family extends their heartfelt appreciation to the staff at Kettle Moraine Gardens and Preceptor Hospice for the loving care they provided.
Please consider signing our online guest book to share your condolences with the family. Cards addressed to the family may be sent in care of: Myrhum – Patten Funeral and Cremation Service, 1315 W. Washington Street, West Bend, WI 53095.