June 2, 2022 – Campbellsport, WI – Philip A. Scarpace, 66, of Campbellsport, formerly of Port Washington, passed away after a tenacious two-year battle against pancreatic cancer, on May 25, 2022, at his home with his family.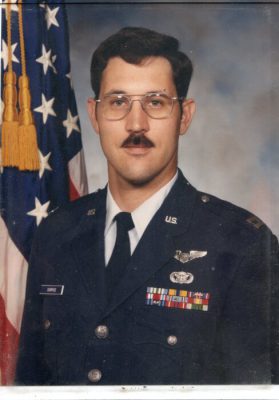 Philip was born on November 29, 1955, in Milwaukee, the son of the late Philip J. and Donna (nee Portice) Scarpace. He graduated from James Madison High School in Milwaukee and shortly after joined the U.S. Air Force. On October 1, 1977, he was united in marriage to Scheketha Messer in Tampa, Florida.
Philip found his calling in the USAF reserves, as a navigator on KC-135 refueling planes. He was stationed for a large part of his career out of the 128th Air Refueling Wing in Milwaukee. He served in several notable missions including; Operation Desert Storm, the conflict in Kosovo, and immediately following the attacks on September 11, 2001. Philip proudly served his country with the rank of Lt. Col., retiring after 30 years in the military at Scott AFB, in Illinois in 2005.
Philip moved his family from Milwaukee to Port Washington in 1992. He worked for the Department of Motor Vehicles as a driving instructor for more than 25 years, then worked for the Department of Transportation before retiring in 2014. He was very active with the American Legion Post 82 in Port Washington, often participating in color guard duties at various community events. Philip and his wife moved to Campbellsport in 2008. Philip served on the Plan Commission for the Village of Campbellsport for nearly three years.
He proudly earned his private pilot's license in his early 20s. Philip had a zest for hitting the open road, whether it be on a motorcycle or in one of the many vehicles he owned over the years.
He celebrated his retirement from the USAF by purchasing a Harley-Davidson motorcycle and spent 10 years enjoying riding his steel horse with his wife. He then fulfilled a longtime dream of purchasing an RV and was blessed to find a permanent camping spot in Fond du Lac County, where he spent many relaxing days with his family. Philip was competitive with a playful spirit and hardly missed an episode of The Price is Right or Jeopardy, but he especially enjoyed playing the board game Sorry with his grandchildren in the hopes of being crowned "Grand Puba" of each game.
Philip is survived by his wife Scheketha "Sam" Scarpace of Campbellsport, son Anthony (Jenna) Scarpace of Shorewood, and daughter Sarah McCraw of Grafton; siblings Peter (Debbie) Scarpace of Sussex, Donna Scarpace of Appleton, Peggy (Daniel) Peschke of West Bend, and Patricia (Jeffrey) Giesfeldt of West Bend; 11 nieces and nephews; his beloved grandchildren Morgan, Mia, Hadley and Sage; and aunts and uncle, Joyce Krueger of West Bend, Jean Schramm of Fox Point, and George (Janice) Portice of Twining, Michigan. He is further survived by many cousins and friends.
In addition to his parents, Philip was preceded in death by his Aunts Lois Ward and Beverly Portice, Uncle John Portice, his older brother Don Scarpace, infant sister, Patricia Ann Scarpace; infant brother, Paul D. Scarpace; and infant great-nephew, Brahm Scarpace.
VISITATION: Philip's family will greet relatives and friends at the Myrhum – Patten Funeral and Cremation Service, 1315 W. Washington Street, in West Bend, on Saturday, June 4, 2022, from 10:00 a.m. until 11:00 a.m.
MEMORIAL SERVICE: A memorial service followed by military honors for Philip will be held at 11:00 a.m. at the funeral home on Saturday, June 4, with Dan Schroeder officiating. Inurnment of Philip's remains will be held at a later date at Southern Wisconsin Veterans Memorial Cemetery in Union Grove.