July 23, 2019 – Jackson, WI – The world has lost a faithful servant and light. Reuben Theophil Schowalter, 86, passed away quietly on Monday, July 22, 2019, at home in Jackson, WI. Reuben was born to Henry P. and Esther A. (Dhein) Schowalter on November 23, 1932, in Jackson, WI. Never missing a day of school, he was a 1950 graduate of West Bend High School. Reuben married Judith A. (Langnes) Schowalter on July 15, 1960 at St. Peter's United Church of Christ, Jackson, WI. He worked as a farmer on the family farm, a school bus driver for Riteway Bus Service for 25 years, and a truck driver for Liesener Soils for 34 years. Reuben was a beloved long-time member of St. Peter's United Church of Christ, Jackson, WI and Faith United Church of Christ, Slinger, WI. He enjoyed serving his church community through fellowship and choir. He also loved gardening, sharing good jokes and stories with friends and strangers alike, car rides, and popcorn.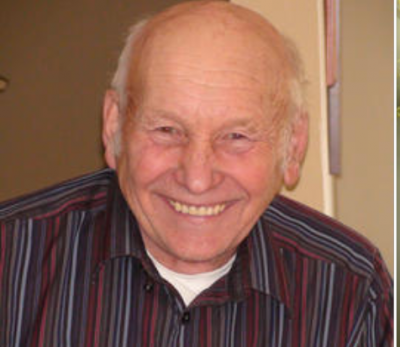 Reuben is survived by his wife, Judith Ann (Langnes) Schowalter, his children Linda (Robin) Bogart, Lake Frederick, VA, Raymond (Carol) Schowalter, Kewaskum, WI, Ruth A. Schowalter, Jackson, WI, and Robert (DiAnn) Schowalter, West Bend, WI; Grandchildren Lauren (Patrick) Sowers, Tyler (Anslie) Bogart, Ashley (Troy) Schlender, Holly (Travis) Smith, Monique (Tyler) Wetterau, Tiffany (John) Falk, Jacob (Fiancée Jessica Hebert) Schowalter, and Luke Schowalter; Great Grandchildren Courtland and Beaumont Sowers, Trent and Duke Schlender, Leah, Hattie, and Blake Smith, Sage and Slade Wetterau. He is further survived by his brother Rev. Daniel V. (Marjorie) Schowalter, sisters-in-law Sandra Peterson and Phyllis (Elwood) Olson, nieces, a nephew, other relatives, and friends. He is preceded in death by his parents Henry P. and Esther A. Schowalter.
Funeral Services for Reuben will be held at 7:00 p.m. on Monday, July 29, at the Phillip Funeral Home Chapel, 1420 W Paradise Dr. West Bend with Rev. Sharon Stier presiding. Visitation will be at the funeral home on Monday from 3:00-7:00 p.m. Private interment service for the immediate family will be held at St. Peter's United Church of Christ Cemetery.
The family would like to offer a special thank you to the Aurora Hospice Care Team, cousins Charles and Oliver Schowalter, and the Martinka family.
lieu of flowers, memorials are appreciated to St. Peter's cemetery fund and/or Faith United Church of Christ.