Obituary | Richard M. Frey, 86, of the town of Hartford
July 14, 2020 – Hartford, WI – Richard M. Frey, 86, of the town of Hartford, Wisconsin passed away peacefully on Monday, July 13, 2020 in the comfort of his home surrounded by his loving family.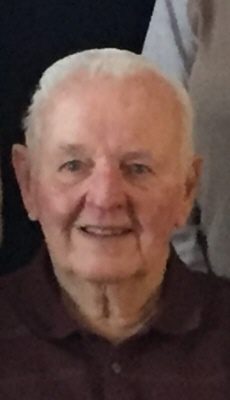 Richard was born March 5, 1934 in the town of Hartford, Wisconsin son of John and Armella (nee Schickert) Frey. He was united in marriage to Dorothy M. Hahn on May 12, 1956 at St. Kilian Catholic Church in Hartford, WI.
After graduation from Hartford High School, Richard was drafted into the United States Army and was stationed in Korea working as an auto mechanic. After his honorable discharge in August of 1958 he worked on his parents' dairy farm. A few years later he began working in carpentry and later on started his own business called Frey Building Improvements. He was still doing small jobs up until a few years ago.
Richard loved cheering on the Green Bay Packers and going to the Milwaukee Brewers games. He also enjoyed snowmobiling, deer hunting, going to auctions and casinos. Recently his favorite pastime was watching the many birds eating at his bird feeders. He had a very special cat named Dezzy.
Richard is survived by his loving children Duane (Cherie) Frey, Diane (Rick) Steger, Janice (Philip) Klink, and Randy (Rene') Frey, grandchildren, Nicole, Rebecca, Amanda (Ryan), Katrina (Nate), Kari (Adam), Daniel, Andrea (fiancé Cody), Nicholas, Krista, Robbie (Melissa), Kelly (William), Leah (fiancé Luke), and Nathan (Brooke), and many great-grandchildren. He is further survived by his dear sister Marian Engle, dear brothers Robert (Shirley) Frey and Ronald (Arlene) Frey, sisters- in-law Lorraine Nagel, Lucille (John) Van Straten, and Annette Hahn, brothers-in-law John (Gloria) Hahn and Jim (Nancy) Hahn, and Walter Klink, and many nieces, nephews, other relatives and friends.
He was preceded in death by his beloved wife Dorothy of 64 years, parents, parents-in-law Mabel (nee Weber) and William Hahn, grandsons Daniel and David Klink, sisters-in-law, Mary Ann Frey, Mildred (Frank) Vollman, and Mary Klink, and brothers-in-law Don Engel, Harland (Caroline) Hahn, Clement (Margaret) Hahn, Charlie Hahn, Marvin Hahn, and Marvin Nagel.
A Mass of Christian Burial for Richard will be celebrated Monday, July 20, 2020 at 10 a.m. at St. Lawrence Catholic Church (4886 State Rd 175, Hartford, WI 53027), with Rev. Jonathon Schmeckel officiating. Interment in St. Kilian Catholic Cemetery, Hartford.
Visitation for family and friends will be held Sunday, July 19, 2020 from 3 p.m.- 6 p.m. at Shimon Funeral Home, 824 Union Street, Hartford, WI 53027.
Special thanks to the nurses at Horizon Hospice for their loving care. Richard's family would like to also share their heartfelt gratitude for the home visits from Rev. Jonathon Schmeckel.