January 26, 2023 – West Bend, WI – Richard Ernst Lauersdorf was born August 29, 1934, to Ernst and Adela Lauersdorf in Watertown, Wisconsin, where he was baptized and confirmed in the Lutheran faith at St. John's Lutheran Church.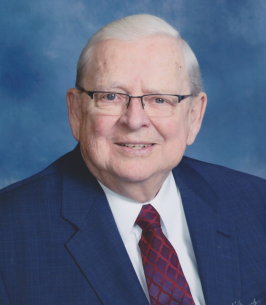 He graduated in 1952 from Northwestern Preparatory School and in 1956 from Northwestern College in Watertown. Upon graduation in 1960 from Wisconsin Lutheran Seminary, he was assigned to the first mission in Canada of the Wisconsin Evangelical Lutheran Synod (WELS); he was ordained and installed June 13, 1960, at Sault Ste. Marie, Ontario.
He returned to Wisconsin in 1964, serving at St. Matthew in Ontario and St. John in Kendall until 1969, when he began a 29-year ministry at St. John's in Jefferson.
In 1997 he was called to be the first full-time Vice President of Mission and Ministry for the WELS, a position from which he retired in 2001. His passion for sharing God's Word led him to return to parish ministry at Good Shepherd in West Bend in 2003.
Pastor Lauersdorf was blessed to preach and teach among the flock of Good Shepherd until a few days before the Lord called him home.
Richard's broader service to the Lord and His Kingdom included 20 years as a member of the WELS Board for World Missions and 14 years as part-time and then full-time Vice President of the WELS.
For over 40 years he contributed devotions and Bible studies to the Northwestern Lutheran and Forward in Christ magazines and authored numerous devotional and doctrinal books. God blessed Richard with an ability to write in a way that resonated with people in many walks of life, his books reaching an audience in many parts of the world. Beyond his service to the Church, he enjoyed woodworking, travel, reading, watching the Brewers, and spending time with family and friends.
On June 26, 1960, he was united in marriage with Charlene Baumgarten, who was at his side as loving wife, faithful helper, woodworking partner, and travel companion throughout their 53 years of marriage until her passing in 2014.
Richard received the gift of eternal life on January 22, 2023, at age 88. His entrance into heaven is celebrated by his children Beth (Roger) Kramp, Mark (Josee), James (Marla), and Anne (Clayton) Drewa, Jr.; grandchildren Megan, Amie, Laura (Jeremiah) Martin, and Colter; great-grandson Matthias; sister, Delores Tessmer; and many relatives and friends.
The Visitation will be held on Sunday, January 29, 2023, from 1:00 PM until 4:45 PM at Good Shepherd Evangelical Lutheran Church (777 S Indiana Ave, West Bend, WI 53095). The Funeral Service will follow at 5:00 PM. Private interment will take place at Washington County Memorial Park.
Memorials may be given to WELS World Missions, Good Shepherd Lutheran Church, Good Shepherd Lutheran School, or designations by family choice.
"To God be the glory, great things He has done!"