Obituary | Robert "Rob" J. Schuster, 38, of Slinger
August 3, 2019 – Slinger, WI – Robert "Rob" J. Schuster, 38, found peace and passed away unexpectedly on Wednesday, July 31, 2019.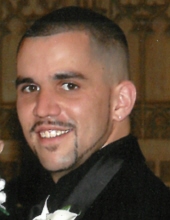 He was born in Milwaukee on January 27, 1981 to parents Paul and Judy (Wiedmeyer) Schuster. Rob attended Slinger High School.
Rob is survived by his son, Robert John Schuster II.; parents, Paul and Judy; siblings, John (Lindsay) and Monica Schuster; two nieces, Jorja and Jade; nephew, Jaxx; former spouse, Desirae Garcia; also survived by aunts, uncles, other relatives and friends.
Memorial Service for Rob will be held at Shimon Funeral Home, 824 Union St., Hartford on Wednesday, Aug. 7 at 6 p.m. with Very Rev. Richard Stoffel presiding.
Visitation for family and friends from 3 p.m. – 5:45 p.m. Private committal at St. Peter – Paul Cemetery, Nenno. In lieu of flowers, memorials are appreciated to the family for RJ's care.