December 19, 2019 – Kewaskum, WI –Robert Emmett (Bob) Scannell, 91, of Kewaskum, Wisconsin passed away on Tuesday, December 17 at Froedtert Hospital in Milwaukee after complications during heart surgery.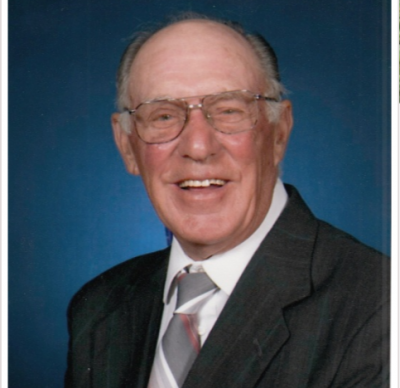 Bob was born on March 7, 1928 in Armstrong, Wisconsin to George and Viola (Merjay) Scannell. He was unable to finish his senior year of high school because of the war and being needed to help at his father's cheese factory. He became the youngest master cheese maker in Wisconsin at the age of 16. He is most known for his kind heart and sense of humor.
Bob married the love of his life, Bernice "Bunny" Bunkelman on June 11, 1949. Together they raised a loving family of six children: Sue (Don) McCullough West Bend, June (Chuck) Kocken Oshkosh, Pam (Jerry) Lahmann Wauwatosa, Jean (Mark) Homan Waupun, Kelly Scannell Kewaskum and Jeff Scannell West Bend.
Bob's first job was at Plymouth, Wisconsin as a cheesemaker. He moved to Kewaskum in 1954 and got a job at "Yum Yum" Kewaskum Dairy which later became Kemps Dairy.
He was an active member of the community. He participated in recreational baseball and bowling teams. He was a member of the Lions Club and was a volunteer auxiliary policeman for over 25 years. He was involved in church activities as an usher. After retirement, he spent most of his new free time on the Hon-E-Kor Golf Course. He also liked to go dancing, listen to big band music (of which he had a huge collection), and play cards. Bob's biggest joy in life was spending time with his family and extended family. He was very proud of his Irish Heritage and enjoyed working on his family genealogy.
Bob is survived by his lovely wife Bunny of 70 years, his six children, 10 grandchildren (Pat, Heidi, Mitchell, Jenna, Ian, Neda, Keith, Krystal, Hunter and Lily) and four great grandchildren (Charlie, Alice, Liam and Ellen). He is also survived by one brother Tom Scannell of Fond du Lac, and two sister in-laws: Betty Scannell of Madison and June Twohig of Minnesota. He is also survived by many wonderful nieces and nephews who were dear to his heart…especially his great nieces Kari and Lorri. He is also survived by his good friend Don Baierl.
He was preceeded in death by his parents George and Viola Scannell, his in-laws Louis and Lorinda Bunkelman, his infant son Robert Louis (Bobby) Scannell, his siblings: Florence (and John) Twohig, Leo (and Elaine) Scannell, Mary (and Jim) Twohig, Margaret (and Allen) Guell, Jim (and Pat) Scannell. His brother in law Edward Bunkelman and sister in-laws Marion Bunkelman and Marcella "Sis" Scannell.
A visitation for Bob will be held on Saturday, December 28 from 9 a.m. – 11:30 a.m. at Holy Trinity Church in Kewaskum. Mass of Christian burial will follow. Rev. Anthony Scannell will officiate the service. A private family burial service will be held at Peace Cemetery in Kewaskum after the mass.
Bob was an incredible husband, dad, grandpa, great grandpa, brother, uncle and friend. We will miss his warm hugs, blue eyes, witty humor and loving ways. He always said that his dad was his hero and that legacy continued because he was a hero to all of us.
"A great man is one who leaves others at a loss after he is gone" (Paul Valery)