Obituary | Shirley Enright, 83, of Newburg
April 29, 2019 – Newburg, WI – Shirley Enright (Felber), 83, of Newburg was called home to be with the Lord on April 28, 2019 at St. Luke's Medical Center in Milwaukee surrounded by her loving family.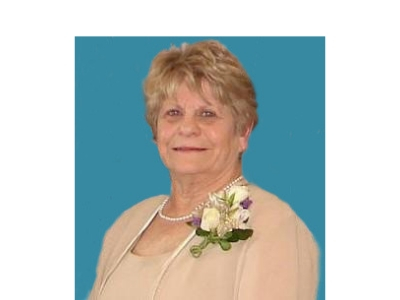 Shirley was born on April 8, 1936 in Racine to Frank and Anna (Meyerhoffer) Felber.  She graduated from Park High School in Racine.  On February 13, 1954 Shirley was united in marriage to Charles W. Enright at The Little Brown Church in Nashua, IA.  Together they had seven children who have remained very close to her throughout her life.  Aside from raising her family, Shirley owned and operated Country Velvet Gift Shoppe with her dear friend Nell Stehr. She later worked at Amity Leather Products for 25+ years until she retired. Towards the end of her retirement she owned and operated Shirley's Cards & Gifts in Newburg for another ten years.
Shirley loved her huge family and frequent gatherings full of love and laughter.  Her many dear friends made her life special and she particulary enjoyed getting together with them on Mondays to play cards.
Those Shirley leaves behind to cherish her memory include her seven children, Coen (Michelle) and his children Chad (Kelly), Jason (Heidi), Jeremy, Jonathan, Joshua and Jacob and Michelle's daughter Victoria (William) Sharp. Brian and his children Brian, Bradley (Alex), Branden (Amanda) and Benjamin (Sara). Patrick (Mary) and his children Ryan (Shellie) and Shawn, and Mary's children Dr.Trevor (Rebecca) Patt, Lindsay (Ben) Carr, Kyle and Eric Patt. Charlotte (William) Krell and their children Erin (Joshua) Becker and Travis (Debbie).  Kathlyn Vorpahl and her children Sarah (Kevin) Beimborn, Steven (Brittany) Stockhausen and Anthony Vorpahl. Michael and his children Jacob and Jayden. Colleen (Jamie) Mayer and their daughter Alyssa (Paul, Jr.). She is further survived by 30 great-grandchildren, brothers, Frank and Robert Felber; sisters, Beatrice (Alan) Schuster, Doloris Damron, and Lucille Enright; brothers-in-law, George (Joyce) Enright, Ed (Janet) Enright, and Allen (Paulette) Enright; sister-in law, Valeria Janeski; and numerous nieces, nephews, other relatives and friends.
In addition to her parents, Shirley was preceded in death by her husband, Charles; brother, John St. Martin; sisters, Rosemary (Joe) Voytko, Dorothy (Ed) Kudrna; brothers and sisters-in-law, Shelby Enright, Norma Regner, Evelyn (Don) Dankert, and Nancy (Arvid) Hoppe
Memorial Service for Shirley will be held at 3:00 p.m. on Saturday, May 4, 2019 at St. John's Ev. Lutheran Church (623 Congress Street, Newburg, WI 53060) with Pastor Kurt Schaser officiating. Inurnment at St. John's Cemetery in Newburg.
Shirley's family will greet relatives and friends at Church on Saturday from 12:00 p.m until the time of service.  Memorials to St. John's Ev. Lutheran Church.
Shirley's family extends their heartfelt appreciation to the staff at St. Luke's Medical Center Neuro ICU for the loving care they provided.