Obituary | Shirley Mae Doubleday, 84, of Hartford
May 1, 2019 – Hartford, WI – Shirley Mae Doubleday, 84, died at 3:20 p.m. on April 30, 2019 of ischemia (restricted blood supply to leg tissues) at her home with the comfort of her family.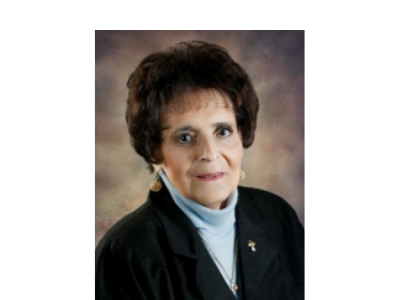 Shirley was born on January 13, 1935 in the living quarters of her parents' Hilltop Tavern, in Monches, Wisconsin to LaVerne (1909-1985) and Virginia (Raebel) (1913-2010) Loew. She was their second of three children: Janet (Donald (1928-2004)) Voigt and Mary (Harley) Leitzke.
Shirley married James R. Doubleday on April 25, 1953 at St. Kilian Church, Hartford. Jim (1931-2013) was born to Raymond (1902-1964) and Blanche (Ellingson) (1906-1998) Doubleday. He was their fourth of six children: DeWayne (1925-1976, Marjorie), Sylvia (1928-2014, Bud) Infalt, Roger (1929-1991, Agnes), Marlene (1934-2010, Wally) Bilgrien, and Faye (1937-, Charlie) Hottenroth.
Shirley and Jim have two children: James Jeffrey (Chris) and Denise (Dave) Oechsner. Denise has two children: Adam and Amy (Chris) McManigal (Grandchildren). Amy has three children: Turner, Sullivan and Isla (Great Grandchildren).
Shirley attended grades 1-2 at Monches, 3-6 at St. Mary's, Menomonee Falls, 7 at Plat, 8-10 at Hustisford, and 11-12 at Hartford Union.
Shirley babysat and waitressed as a teenager. From age 16, she was a switchboard operator for the telephone company in Hartford for 10 years and then Milwaukee for three years. Beginning in 1963, Shirley was a medical receptionist with Dr. James Algiers, then Drs. Hoffmann & Algiers, then the Hartford Clinic, and then the Parkview Clinic for 22 years. From 1986 until her retirement at age 55 in 1990, Shirley and her husband, Jim, owned and operated Hartford Sentry Foods where she was the cashier. She was a long-time member of the Hartford Auxiliary, serving as its president, v.p., etc.
Shirley lived at Pike Lake for fifty years, traveled to Hawaii and Europe, and cruised the Caribbean. She liked to cook, knit, croquet, macramé, decorate, shop, grow plants, collect things and watch sports and game shows. She loved makeup, nail polish, hairstyles, clothes and jewelry. She was proud and feisty.
Visitation will be on Thursday, May 2, from 10 a.m. at St. Kilian Catholic Church in Hartford, until the Mass of Christian Burial at Noon, followed by burial at St. Kilian Cemetery New, West State Street.