May 26, 2019 – Theresa passed away May 23, 2019 at the age of 93. She was born December 21, 1925 in Pleasant Hill in the town of Richfield to the late John and Anna (née Mueller) Janzer. Theresa married Gilbert Bruckert on September 22, 1945 at St. Mary's Catholic Church in Richfield.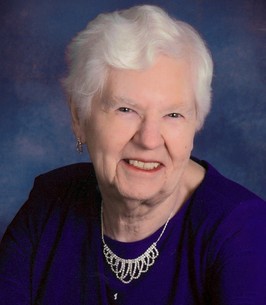 They were married for 38 years prior to his passing in 1983. Theresa and Gilbert farmed until his death and Theresa continued to farm with her daughter Judy for two more years until moving to West Bend. Theresa was a long time member of Homemakers, Washington County Farm Bureau, and Catholic Financial Life.
She was a long time member of Holy Angels Catholic Church in West Bend. Theresa enjoyed a lifelong passion of making wedding dresses, bridesmaid dresses, prom dresses, and mending and alterations. Theresa enjoyed spending time with her grandchildren and great-grandchildren and she played cards weekly and went to many polka dances throughout the years. Theresa worked at the Washington County Farm Bureau stand at the County Fair for over 40 years.
Theresa and Gilbert had 2 daughters, Rita (Steven) Staehler and Judith (David) Curry, 3 grandchildren, 12 great-grandchildren. Tabitha Staehler, children Colin, Alaina, Kasey, Seth, and Willow. Steven (Tami) Staehler, children Zach, Kaila, and Kyle. Billijean Lockwood, children FrankieAnne, Cheyenne, George, and Regan. Her sister-in-laws, Margie Janzer, Rita Bruckert, Eugenia Bruckert, Rosie Henning, Ginny Feucht, Marion Krieser. Special friends Faye Koerfel, Ester Kainz and other relatives and friends.
Theresa was proceeded in death by her parents, her husband, 4 brothers P.F.C. Lawrence Janzer, Alphonse (Daphane) Janzer, William Janzer, Joseph Janzer. 2 sisters Marie (Alfred) Yogerst, and Margaret (Felix) Yogerst. Brother-in-laws and sister-in-laws George Feucht, Peter Bruckert, Kenneth Krieser, Helen (Harvey) Giese, Eli Henning, Ralph Bruckert. Aunts and Uncles, nieces Mary Ellen Hawes, Sherry Henning, Carol Williams, Joanne Habersetzer. Nephews Gerad Yogerst, Frank Feucht, Royal and Randy Henning, and Bobby Bruckert.
A thank you to the staff at Froedert for their care in her final days. Thank you to all the friends and relatives that sent well wishes and prayers during this time. A very special thank you to Donnie and Bonnie Yogerst for all that they have done for Theresa over the last few years.
A Mass of Christian Burial will be held at 1:00PM on Saturday, June 1 2019 at Holy Angels Catholic Church in West Bend Wisconsin, Mass will be celebrated by Rev.  Adrian Staehler, organist Kurt Lulich, and soloist Beth Habersetzer. Visitation will be at church Saturday, June 1 beginning at 10 a.m. 12:45 p.m. with Mass to follow. A private family burial will be held at St Peter and Paul Cemetery following the Mass.