Washington Co., WI – Washington County Sheriff Martin Schulteis awarded several commendations last night to members of the Washington County Sheriff's Office as well as our law enforcement partners with the Jackson Police Department and Wisconsin Department of Justice.
These commendations were given out at the Washington County Board of Supervisors meeting for casework done in two different investigations.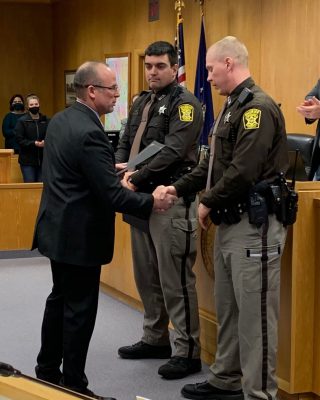 Deputy Ausloos and Deputy Seibel received a commendation for their swamp rescue of an intoxicated driver who fled from a traffic accident on November 28, 2020.
The suspect fled deep into the swamp. When Deputy Ausloos and Seibel heard calls for help they entered the swamp in search of the now trapped suspect. The deputies waded in waist-high water and mud for 90 minutes in below-freezing temperatures to save the suspect. As a result, they required medical treatment for hypothermia. These deputies put their health and safety at risk to save a suspect who was attempting to elude capture.

The Washington County Sheriff's Office Detective Bureau, Multi-Jurisdictional Drug Unit along with our partners from the Jackson Police Department and Wisconsin Department of Criminal Investigation received a commendation for a several-month missing person investigation that started in July of 2020 in the Village of Jackson.
Our agency assisted the Jackson Police Department with the disappearance of 30-year old Stephen Lombard.
The investigation revealed that a 35-year-old Allenton man had been using drugs with Stephen in the City of Milwaukee. While Stephen was overdosing the suspect drove around the city and made cash withdrawals from Lombard's bank account as he lay in the passenger seat dying.
Lombard eventually died in the car and was dumped the following day in the Allenton Marsh. This multi-jurisdictional investigation led to the recovery of Stephen's remains as well as secured valuable evidence resulting in the arrest of the suspect.
This investigation was led by Jackson Police Officer Jennifer Gerke and Washington County Sheriff's Detective James Frankow but required significant resources from all of the agencies involved.
Washington County Sheriff Martin Schulteis said, "I am proud of the commitment, resolve and dedication of these deputies and officers. The work done in these cases exemplifies my leadership direction and commitment to ensuring a safe and secure community."