September 30, 2019 – West Bend, WI – The new Billy Sims BBQ restaurant has announced an official opening date for its store in the Washington Plaza, 1442 W. Washington Street, in West Bend.
Below you can see the build out is nearly complete. According to franchise owners, Billy Sims will be coming to West Bend to participate in a couple grand opening events.
According to Billy Sims marketing director Tena Wooldridge, the store in West Bend will open in mid-November. Wooldridge said there have been some contractor delays and an initial mid-October opening has now been pushed off a couple weeks.
Thursday, November 14- Billy Sims to arrive in West Bend, WI
Friday, November 15-  Possible school event Friday afternoon, Friday evening 5 p.m. – 7 p.m. dinner rush with Billy (autographs and giveaways)
Saturday, November 16 – 11 a.m. – 1 p.m. Lunch, 5 p.m. – 7 p.m. dinner with Billy (autographs and giveaways)
Billy Sims BBQ in West Bend is also hiring.  Click HERE or the link below for more information.
Looking for ENTHUSIASTIC INDIVIDUALS with food service experience to join Team Billy management in West Bend, WI.
Is that you? Start immediately.
💵 Competitive pay
☀️ Day/evening shifts
👕 FREE uniform
🍖 Employee discount
📆 Flexible schedule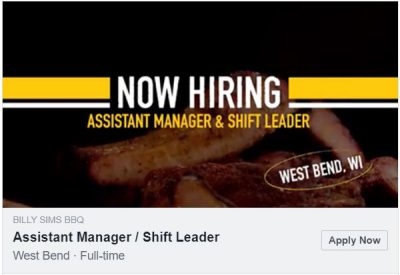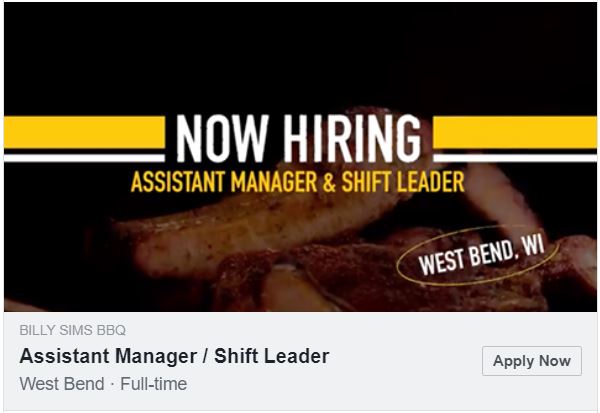 Clay Covert of Slinger is the one behind the opening of the Billy Sims Barbecue in the Washington Plaza, 1442 W. Washington Street. It's the strip mall on the north side of the road that includes Little Caesar's Pizza, Subway, and China Town.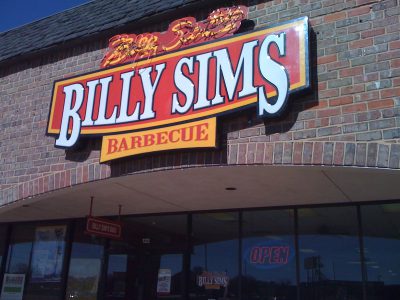 Covert's store would be on the east end of the strip mall in the former AT&T location.
Originally from Detroit, Covert is familiar with former NFL player and Heisman Trophy winner Billy Sims.
A few years ago Sims opened a couple restaurants, grew them into an up-and-coming franchise with stores primarily in Oklahoma, Kansas and a couple in Detroit, Iowa and Colorado.
This will be the BBQ's first opening in Wisconsin.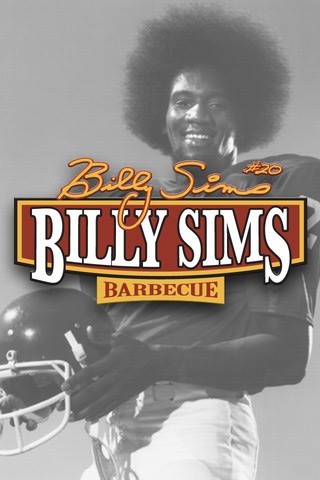 Covert describes it as a "southern BBQ chain" that features pulled pork, brisket, turkey, chicken and ribs. "One of the unique things they serve is baloney and what really sets it apart is all the meat is smoked with pecan wood; it gives it a more sweeter taste," he said.
During his research Covert focused on the West Bend area because he wanted "a community that would be big enough to support the restaurant, but not Milwaukee."
"West Bend seemed like the perfect choice because it's close to where I live, it's a good size city and one of the greatest things is nobody really specializes in barbecue in this area," he said.
The franchise format is considered "fast casual."
"There will be plenty of seating, carry out and we will do a lot of catering," he said. "The style is similar to a Qdoba where you place your order, go down the line and get your food."
Click HERE to look at the menu.
Covert is expected to employ about 15 part timers and is expected to open in late fall.
Adam Williquette, Broker and Owner of American Commercial Real Estate oversaw the lease of the space.
Graphics courtesy Billy Sims BBQ