Paradise Theatre closes for major remodel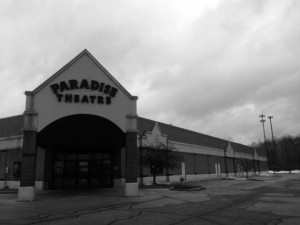 The Dumpsters will be delivered this afternoon as a major changes are in store for the Paradise Theatre, 2014 Parkway Drive, in West Bend.
Just before noon today a group of local business people came to an agreement to take over operations from previous owner Paradise Theatre LLC.
– – This is a story you will see first at WashintonCountyInsider.com  – –

Spokesman Troy Hanson said Boppa LLC, has purchased the equipment of Paradise Theatre LLC effective February 29, 2016.
"The group is taking over the operations of the theatre and changing the name to West Bend Cinema," Hanson said. "The theatre will be closed immediately as renovations and an extensive cleaning get underway."
The Paradise Theatre will be closed, beginning today, Feb. 29, as a major renovation begins including new bathrooms, carpet, paint, lighting, and popcorn machine.
"In the coming months new seating will be installed and outdoor updates, including new signage, will be made by June," said Hanson. "Samples of the new seats will be on display in the theatre lobby."
The Paradise Theatre opened in December 1994. Over the years some improvements were made; in 2013 the Paradise Theatre upgraded from a 35-millimeter film system to high-end Christie Digital Projectors with an injector INS library system and Dolby-digital stereo.
Two screens were also dedicated to 3D technology.
Late in 2015 representatives from Paradise Theatre LLC and the Boppa group got together to discuss a possible agreement.
The change in ownership came about as the new owners of the Paradise Theatre try to win back an audience that has since drifted south to theaters in Milwaukee and Ozaukee Counties.
"The new owners also pledge to insure customer satisfaction by conducting weekly onsite inspections with an expectation of cleanliness and friendliness," said Hanson. "You could call it a 'friendliness and cleanliness campaign.'"
As a commitment to the community, the owners group will also honor Paradise Theatre gift cards sold in the past six months.
New owners will also feature specials four nights a week including 'Date Night Thursdays' where there will be a newly-expanded beverage menu including beer and wine.
Prices will also be reduced across the board for movies and concessions.
A grand re-opening at the new West Bend Cinema will be March 18.
The Paradise Theatre was previously owned by Paradise Theatre LLC.