Pat Strachota named to state ethics panel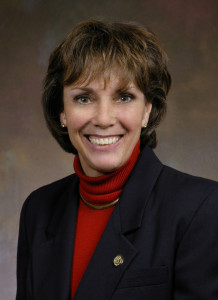 A story in the Wisconsin State Journal about Pat Strachota of West Bend being tabbed to be part of a new state commission on ethics and elections.
Reporter Mark Sommerhauser writes:  
Assembly Speaker Robin Vos has named a former Republican state lawmaker and a Republican National Committeeman to new state commissions overseeing ethics and elections.
Former Rep. Pat Strachota, R-West Bend, was Vos' pick for the ethics panel and RNC member Steve King of Janesville his choice for the elections panel.
On June 30, the new partisan panels will replace the outgoing Government Accountability Board, whose members are nonpartisan. The transition was triggered by a law passed by GOP lawmakers and signed by Gov. Scott Walker in December.
Strachota was a state representative from 2005-2015 and was Wisconsin's first female Assembly Majority Leader.
The rest of the article is available, click here.
Strachota served as a Supervisor on the Washington County Board from 1986-2002. She was elected to the state Assembly from 2005 – 2014, replacing Glenn Grothman.   
Hat tip Owen Robinson