Pier 1 Imports in West Bend is closing. The store opened in the era of Little Professor and Great Party!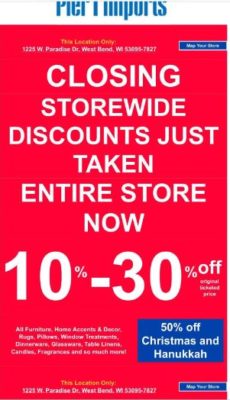 Dec. 29, 2016 – West Bend, WI – Pier 1 Imports in West Bend is closing. The store, known for home decor and furniture, opened Nov. 1, 2000 in the West Bend Corporate Center. The 8,700-square-foot store is in the same area as Boston Store, Wal-Mart, Office Max, MC Sports, Great Clips, and Check n' Go and Subway.
Over the years Pier 1 Imports, which is based in Fort Worth, Texas, had over 800 stores. It most recently opened its fifth Milwaukee-area store in Grafton in February, 2015. That same year there were 20 Pier 1 Import stores across the state of Wisconsin.
Calls have been placed to corporate regarding the closing of the West Bend store. WCI.com will post an update when more information becomes available.
When Pier 1 Imports first opened there were a variety of other stores that made their way in and out of the WB Corporate Center including Great Party!, Little Professor Book Store, and The Paper Factory.
What other shops from the past in that area can you name?
The last day for the West Bend store Pier 1 store will be at the end of February, 2017.