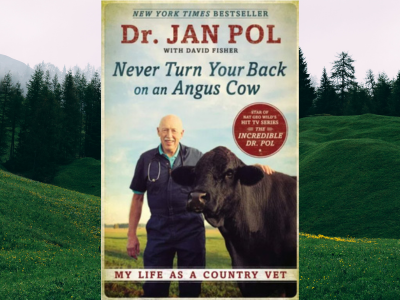 The conversation started off with a bovine discussion, specifically Angus cows. Dr. Jan Pol is the author of the book, "Never Turn Your Back on an Angus Cow: My Life as a Country Vet."
"Never turn your back on an Angus cow," he said, "They are unpredictable."
Pol explained how the animal is very protective of its offspring, "If you turn your back, the next thing they can run you over."
"Don't forget these animals are not stupid."
Pol said, "When you look at them, and you do not impose a threat, they'll leave you alone. But if they suspect that you are a threat…they'll get ya."
Pol has seen this happen personally but he has never experienced it himself.
Pol met his wife, Diane, a Mayville, MI, native, after he spent time as an exchange student at Mayville High School in 1961. "We kept writing to each other and eventually said, hey, you know, nobody else measures up the way we do it. So we finally got together and about five years after we graduated we got married," said Pol.
Pol's show got its start when his son, Charles, who is also his producer, had spent 13 years in LA trying to get his foot in the door to produce movies, found it was a cutthroat business, and was struggling to make the right connections to move forward. Charles approached Pol about filming a reality show. Pol said, "Charles, who wants to watch me. I'm an old guy."
Charles convinced his father to simply do what he does as a veterinarian and allow him to follow along while others wanted to make more of the show.
Pol remained firm in how he felt the show should depict his life as a vet and stuck to his daily routine using no scripts.  "No, this is my patient. If you want to film it, fine. Otherwise, get out of here."
Pol did not bend to drama or others stepping into his reality show domain because he wanted his audience to trust his genuine delivery, "People realize what they see is real." Thus was born Nat Geo WILD'S "The Incredible Dr. Pol."
Dr. Pol has one goal, "This morning people came to the clinic and they said, 'You know, I've learned so much from the show' and this is what I think is very important, at least in my opinion, the more people know about an animal, the better it is for the animal. It doesn't matter…your dog, your cat, your horse, your cow, whatever. This is what makes me happy – that the people learn from the show."
While some may view Pol as a film star, he does not consider himself to fit the mold of a Hollywood elite, "No, I'm not a star. A star has to learn his lines and do what their producer tells him to do. I don't." Pol finds this particularly amusing and breaks out in a belly laugh.
Over the years, Pol and his wife have had experiences with people who have struggled in one way or the other, and the positivity of his show, he believes, has been a source of help.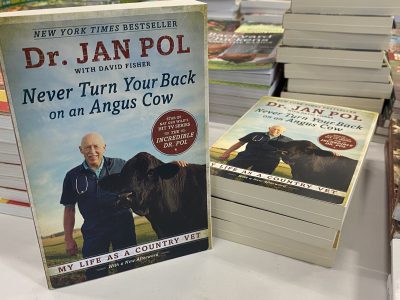 "I feel grateful, I feel humble. Diane and I go to church. We treat others the way we want to be treated. Thank the Lord that we can help people that way."
Dr. Pol is the guest speaker at this weekend's Mother Earth News Fair at Washington County Fair Park & Conference Center, 3000 County Hwy PV, West Bend, WI,
At the Mother Earth News Fair, those 17 and under get in free. Children- and teen-focused activities include making bath bombs, naturally scented play dough, and mud forts, all of which are theirs to take home.
"I'll be sharing all kinds of practical wisdom and real-life know-how from my 50+ years in veterinary medicine," said Dr. Pol. "Doesn't matter if you're running a big farm with all sorts of livestock, have a little hobby farm, or just a couple of pets. No matter the size of your operation or budget, there are many tricks and tips that you can use to help your animals thrive."
General admission tickets are available for single-day access for $20 or multi-day access for $30. Tickets can be purchased at motherearthnewsfair.com
Preferred seating ticket holders at the event will have access to front-row seating at most workshops and a USB flash drive with the complete MOTHER EARTH NEWS archive from the magazine's issues from 1970 to 2022.