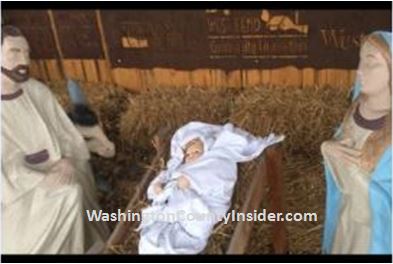 Dec. 24, 2017 – West Bend, WI – On Dec. 24, 2017 at approximately 2:10 a.m. a West Bend Police Officer observed a female walking in the 100 block of N. Main Street, carrying a baby Jesus figurine.
The officer attempted to stop and speak to the female.
She then dropped the figurine and ran. After a short foot pursuit the officer stopped the female.
The  baby Jesus figurine she was carrying was from the Nativity Scene at Old Settlers Park in downtown West Bend.
The figurine she was carrying was a replacement for one that was damaged on Dec. 17, 2017.
The woman, a 21-year-old West Bend resident, was placed in the Washington County Jail, on charges of Theft and Obstructing an Officer.
Investigators were not able to connect the woman with the criminal damage of the baby Jesus figurine that occurred on Dec. 17.
Sgt. Brian Scharinger
West Bend Police Department