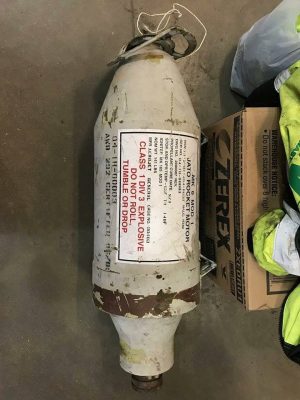 Dec. 24, 2017 – Germantown, WI – On Thursday, Dec. 21. 2017 at 12 p.m., staff at Waste Management, W132N10487 Grant Drive, in Germantown, contact Germantown Police requesting assistance with a rocket mortar shell that was found at their facility.
Someone had placed this item in a recycling container and it was unknowingly transported to the facility. The Milwaukee County Explosive Ordinance Department responded and took custody of the shell which they determined posed no risk.
It should go without saying that this is not the way to dispose of items like this. Over the years we have been involved in incidents where new homeowners locate old military ordnance that were left behind by the previous owner.
Please contact us if you locate these items so that we can deal with them with minimal disruption to the public and business. At this time, we do not know where the rocket mortar originally came from.