Police looking for suspect following robbery of Horicon Bank in West Bend
August 11, 2020 – West Bend, WI – UPDATE: On August 11, 2020 at 12:45 p.m., the West Bend Police Department arrested a 44-year-old man for the Horicon Bank robbery. All of the stolen cash was recovered as well as the bicycle.
The man was placed in jail for Armed Robbery of a Financial Institution.
No other suspects are being sought at this time.
***𝗨𝗣𝗗𝗔𝗧𝗘: 𝟬𝟴/𝟭𝟭/𝟮𝟬 𝗮𝘁 𝟭:𝟯𝟬 𝗣𝗠***
The man in the photograph has been identified and is in custody. The investigation is still on-going.
THANK YOU to the citizens who called with information on the man.
On Tuesday, August 11, 2020 at approximately 8:45 AM a white male entered the Horicon Bank, 1535 West Paradise Drive and demanded money. The man in the photo below implied he had a firearm. The man fled the bank on a bicycle.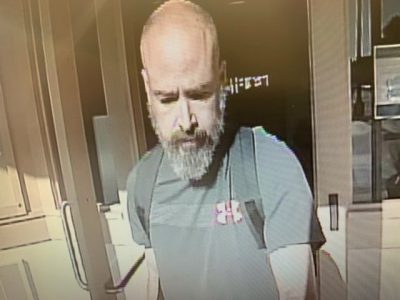 Photograph captured by the bank's cameras.
If you can identify this man, please call 262-335-5000.
𝗗𝗢 𝗡𝗢𝗧 𝗔𝗧𝗧𝗘𝗠𝗣𝗧 𝗧𝗢 𝗔𝗣𝗣𝗥𝗘𝗛𝗘𝗡𝗗 𝗧𝗛𝗘 𝗠𝗔𝗡. 𝗖𝗔𝗟𝗟 𝟵𝟭𝟭 𝗔𝗡𝗗 𝗥𝗘𝗣𝗢𝗥𝗧 𝗬𝗢𝗨𝗥 𝗢𝗕𝗦𝗘𝗥𝗩𝗔𝗧𝗜𝗢𝗡𝗦.