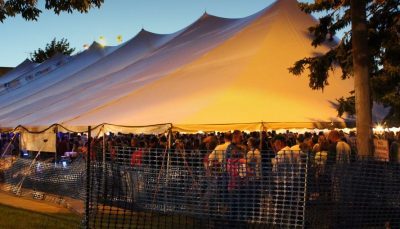 June 11, 2017 – West Bend, WI – The final day of the Festival of Angels will begin with a Mass under the tent at 11 a.m.  The rest of the day's schedule is posted below.
Sunday 11 a.m. – 9 p.m.
Polka Mass at 11 a.m. under the tent.
"Good Time Dutchmen" playing from 12:30-4:30 p.m.
Bingo starts rolling Sunday afternoon.
Nicks Kids Show at 2 p.m.
"Box On" from 5 p.m. – 9 p.m.
All Day Ride Wrist Bands will be available on Saturday and Sunday from 12 p.m. – 5 p.m. and will cost $15. The wrist bands can be purchased on the festival grounds.
Advanced ride tickets are 5 for $6 (one advanced ticket per ride) and are currently available at the Parish Office, Tennies Hardware, and Klotz' Piggly Wiggly.
The annual Silent Auction will be held all three days. Each day new items will be available to bid on, so be sure to check it out each day!
Photos courtesy Holy Angels Festival.