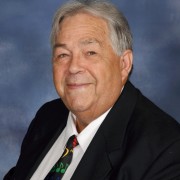 April 17, 2017 – Kewaskum, WI – Neighbors in the Village of Kewaskum are mourning the loss of former Kewaskum High School band teacher and community leader Larry Ammel.
"He was a pillar of the community," said Jeanne Goeden. "He was the one who organized Music in the Park and people really like that."
Ammel had retired from the Kewaskum School District years ago but while there he was active in many of the musicals including Fiddler on the Roof.  "He was a very beloved teacher," Goeden said.
Ammel was also extremely active in Kewaskum Kiwanis, he was the choir director at Peace UCC in Kewaskum and he was involved in the upcoming memorial dedication for Andrea Haberman.
"He used to do beginning band camp at Slinger Middle School," said West Bend High School Band Director Leah Duckert. "He taught me a lot; he taught me beginning trombone."
Duckert recalled Ammel's humor during Friday band camp.
"Trombones are derived from an instrument called a sackbut and Larry brought in these brown paper bags and each kid taped a paper bag to their butt and so then they were all sackbuts. It was hysterical," she said.
Duckert described Ammel as "jolly."  "He was the type of guy you wanted to hug every time you saw him," she said.
Kewaskum Police Chief Tom Bishop said Ammel really gave back to the community. "He will definitely be missed," said Bishop. "He was a heck of a good guy."
Services for Larry Ammel are pending.  Larry Ammel was 73.
Photo courtesy UCC Church