Prices at the pump drop across Washington County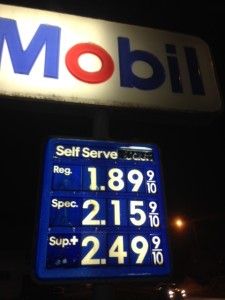 A noticeable drop in prices at the pump across West Bend and Washington County as the price of crude oil tumbled another 5 percent to $31.41 a barrel Monday based on WTI Crude Oil.
A gallon of regular unleaded had been holding steady at around $1.94 in West Bend, Slinger, and Kewaskum. On Monday prices across the board dropped to $1.89 a gallon.
According to Bloomberg data this is crude oils lowest closing price since Dec. 5, 2003 when a barrel dropped to $30.73.
Analysts predict prices could continue to decline.
Taking a swing around the community – a gallon of regular unleaded is:
$1.83 at the BP and Citgo in Hartford
$1.78 at the Mobil in Fond du Lac
$1.76 at Costco in Menomonee Falls