Quiet soft opening for the new Cafe Floriana in West Bend
March 2, 2019 – West Bend, WI – "Finally my own coffee shop and bakery," said a woman from Cast Iron Luxury Living as she relished in the samples of sweets at the new Cafe Floriana, 611 Veterans Avenue, Suite 104, West Bend  
The new bakery and coffee shop, which sits on the first level of Cast Iton  Luxury Living, quietly opened to friends and family on Friday, March 1.
Owners Katherine Schenk and her sister Sara Young have been busy attending to every detail including the lovely icing on top of the luscious cinnamon rolls.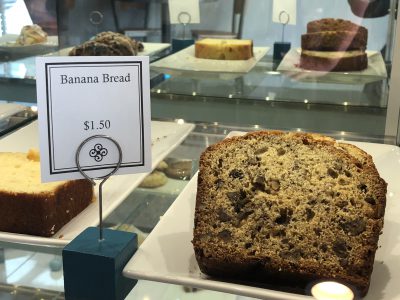 The glass display case at the front of the store held a brilliant selection of homemade cookies, scones and breads including a thick slice of banana bread and one remaining lonely slice of savory lemon bread.
There was a printed menu with a variety of hot drinks from Stone Creek Coffee. The store menu which includes soups and homemade sandwiches.
The grand opening of Cafe Floriana is set for 6 a.m. Monday, March 4.